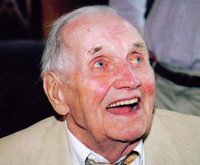 Honorable Lyons
Honorable Michael H. Lyons
Beloved husband of Helen Glass Lyons, died peacefully Thursday, June 14, 2007 at the Joliet Area Community Hospice Home at the age of 90. He was born on August 11, 1916 in Drake, N.D. to Stephen and Alice (nee Dougherty) Lyons; he was the eldest of three children.
Raised in Chicago, Michael graduated from De Paul University College of Law in 1939. He practiced law with the Chicago firm of Bailey and Lyons for 30 years. He was admitted to practice as an attorney and counselor of the United States Supreme Court in 1966, and was an Associate Will County Judge from 1975 until his retirement in 1995. That year the Will County Bar Association cited Judge Lyons for judicial excellence and integrity.
Judge Lyons served as a Lieutenant in the U.S. Army Counter Intelligence Corps in World War II. He saw combat in the South Pacific and Korea.
He married Helen Glass on February 6, 1945 and they had six children.
He is survived by his wife, Helen; five children, James (Marcia) Lyons, Thomas (Carol) Lyons, Joan Lyons (Anthony) DiCola, Dyanne Lyons Wooldridge, and Robert (Priscilla) Lyons; also survived by 14 grandchildren and seven great-grandchildren; his sister, Alice (Larry) O'Donnell; sister-in-law, Jayne Malloy; nieces and nephews and their families.
He was preceded in death in 1973 by his son, John Edward; his brother, Giles, and brother-in-law, Donald Malloy.
Funeral Services for Michael H. Lyons will be Monday, June 18, 2007 at 9:00 a.m. from the funeral home chapel to St. Paul the Apostle Catholic Church for a Mass of Christian Burial to be celebrated at 10:00 a.m. Interment Resurrection Cemetery. In lieu of flowers, the family suggests memorials in Judge Lyons' name be made to the charity of your choice. Visitation Sunday, 4-8 p.m. at:
FRED C. DAMES FUNERAL HOME
3200 Black at Essington Rds., Joliet
For information: (815) 741-5500