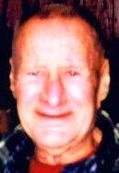 Loren Miller
Loren J. Miller
"Jim"
Age 76. Passed away peacefully Wednesday July 11, 2007 at his Joliet home. Born in Lockport January 5, 1931 to the late Cecil and Viola Miller. Retired from the Teamsters Union Local #179 as a truck driver following many years of service.
Preceded in death by his parents; his beloved wife, Dorothy J. Miller; daughter, Linda Stites; sons; David Eichelberger and Ricky Eichelberger.
Survived by his children, Donald (Arlene) Eichelberger, Joyce (George) Mank, Jack (Deborah) Eichelberger, Ronald (Mary) Eichelberger and Joan (Bernard) Burke; daughter-in-law, Kimberly Eichelberger; special granddaughter, Heather Eichelberger; several other grandchildren, great-grandchildren and great-great-grandchildren; numerous cousins also survive.
Funeral services for Loren J. Miller will be Monday July 16, 2007 at 8:00 p.m. at the funeral home chapel. Fr. Ron Neitzke officiating. As it was Loren's final request crematiion rites will be accorded following funeral services with inurnment at Elmhurst Cemetery on Tuesday July 17, 2007 at 11:00 a.m. Visitation Monday 4:00 pm. until time of services at 8:00 p.m. at:
FRED C. DAMES FUNERAL HOME
3200 Black at Essington Rds., Joliet
For information (815) 741-5500