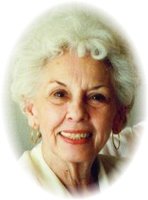 Dolores Nestor
Dolores I. Fowler Nestor
(nee Pershey)
Age 87. Passed away Thursday, May 24, 2007 at Sunny Hill Nursing Home.
Dolores was a well known real estate agent in Joliet and New Lenox for over 30 years. Some of her favorite pasttimes were golf, cooking, decorating, reading and the church.
She brought a joyful heart and inquisitive nature to the many pursuits that filled her life including a deep devotion to her family, her friends, and her Lord.
Her gentle spirit and warm smile brightened the lives of everyone she met, making one and all feel special and important.
Surviving are one son, Michael J. (Rachel J.) Fowler of Colorado Springs, CO; two grandchildren, Cassidy J. and Jesse M. Fowler; one sister, Lillian (Leo) Putz of Cedar Lake, IN; and many beloved nieces and nephews.
Preceded in death by her parents, Matthias and Anna Pershey; her first husband, John Fowler; her second husband, Ralph Nestor; five brothers, Martin, Matthew, John, Edward and Robert Pershey; and five sisters, Ann Fiday, Mary Bartholme, Caroline Berlinski, Elizabeth McCarthy, and Theresa Schneider.
The family wishes to thank everyone at Sunny Hill Nursing Home and the Joliet Area Community Hospice for their love and care.
Services for Dolores I. Fowler Nestor will be Monday, May 28, 2007 at 1:00 p.m. at the funeral home chapel. Interment will be private. Memorials to Joliet Area Community Hospice would be appreciated. Visitation MONDAY, 10:00 a.m. to 1:00 p.m. at:
FRED C. DAMES FUNERAL HOME
3200 Black at Essington Rds., Joliet
For information: (815) 741-5500
www.fredcdames.com
Directions to the Funeral Home