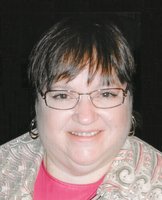 Debra L. Pondell
Debra L. Pondell
"Debbie"
(nee Stapleton)
Age 61, passed away on Saturday, April 8, 2017 at Mercy Hospital in Chicago. Born in Missouri on April 13, 1955 to Raymond and Betty (nee Buckman)Stapleton. Debbie was raised in Hull, Illinois where she graduated from Western Hull Elementary and Pike High School. She then received her nursing degree from Blessing Hospital and received her Bachelors Degree from St. Xavier College in Chicago. Debbie enjoyed the 30 years working as a Registered Nurse in the ICU at Mercy Hospital. Active member of Judson Memorial Baptist Church.
Preceded in death by her parents.
Survived by her loving husband of 33 years, Raymond A. Pondell; one sister, Judy (Jesse) Chapman; two brothers, Larry (Paulette) Stapleton and David (Luanne) Stapleton; one niece, Jeannie (Cory) Kindheart; three nephews, Mike (Zonia) Stapleton, Matt (finance Michelle) Stapleton and Dale Stapleton; three great-nieces, Katie Kindheart, Audra and Samantha Stapleton; and seven great-nephews, Tanner and Cameron Kindheart, Isaah, Zachariah, Aden, and Brandt Stapleton, and Braindon.
A memorial visitation will be held on Saturday, May 6, 2017 from 2:00 p.m. until the time of service at 3:00 p.m. at Judson Memorial Baptist Church, 2800 Black Rd, Joliet, IL 60435 with Pastor Kevin Comfort officiating. The services will be followed by a memorial luncheon. Funeral arrangements have been handled under the care and guidance of the Fred C. Dames Funeral Home. For further information, please call 815-741-5500 or visit her Memorial Tribute at www.fredcdames.com