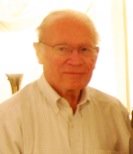 Joseph E. Gregorich, Jr.
Joseph E. Gregorich, 1938-2017
Joseph E. Gregorich died on April 6, 2017 in Marina del Rey, CA. Born on January 21, 1938 in Joliet, IL, he was the son of the late Joseph and Ann Gregorich. Joe attended St. Mary's Nativity and Joliet Catholic High School and went on to study engineering at St. Joseph's College and the University of Illinois.
After graduating, Joe moved to Los Angeles, where he worked as an engineer for Hughes Aircraft Company for many years before attending Loyola Law School. He worked as an attorney at several firms, including Kirkland & Packard LLP and Schwartz & Janzen LLP, where he specialized in aviation and construction law. Joe argued a number of high-profile cases in state and federal courts and enjoyed serving as a mentor to young attorneys.
Joe was a devoted sports fan—supporting both the Chicago Cubs and teams from his alma maters, including Joliet Catholic High School and the University of Illinois. He had a wide range of hobbies—including model trains, coin collecting, and being an airplane pilot--and loved animals, especially his cats. Beloved by his extended family, Joe was proud of and generous with his nieces and nephews.
Joe is survived by his sister Patricia (Richard) Hellman, brother Robert (Mary Jo), nieces, nephews, grandnieces, and grandnephews.
Funeral Services for Joseph E. Gregorich, Jr. will be held on Tuesday, April 25, 2017 at 10:00 a.m. from the Fred C. Dames Funeral Home, 3200 Black at Essington Rds., Joliet to St. Mary Nativity Catholic Church, 706 N. Broadway, Joliet where a Mass of Christian Burial will be celebrated at 10:30 a.m. Interment St. Mary Nativity Cemetery. In lieu of flowers, memorials in his name to Meals on Wheels, SPCA, or a charity of the donor's choice would be appreciated. Visitation Tuesday morning from 8:30 a.m. until time of prayers at 10:00 a.m. For more information, please call 815-741-5500 or visit his Memorial Tribute at www.fredcdames.com