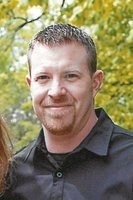 Jeffery R. "Jeff" Farrar
Jeffery Robert Farrar
"Jeff"
Sunday August 27, 2017, Jeff Farrar passed away unexpectedly, at the age of 39.
He was born and raised in Joliet and Channahon, and became a lifelong resident of Minooka, IL. He was a graduate of Minooka High School Class of 1996, where he trained in the GAVC building trades program. He then went on to become a proud and dedicated Union member of the IBEW Local 176. He spent the last twenty plus years providing for his family as a Journeyman Wireman.
Jeff loved taking his family on vacations to ballgames, and spending time outdoors. He was an avid Cardinal fan and a proud sports coach of his two daughters. He made it a fun learning experience to do projects around the house with his "girls". He prided himself on being a wonderful father, provider and family man.
Survived by his high school sweetheart, and loving wife of 13 years, Crissie (nee Hammen) Farrar, and his two daughters, Carlie and Caylie, of Minooka. His parents Wally & Paula (nee Gardner) Farrar of Channahon; Best friend and brother Jason (Missy) Farrar, and his brother, Justin (Samantha) Farrar; one aunt, Bonnie Pollack. His father and mother-in-law, Nick and Kathy Hammen; one brother-in-law Jim Hammen, and one sister-in-law Carrie (Michael Wallin) Gierich, all of Minooka. Numerous nieces, nephews, cousins and close friends also survive.

Preceded by his grandparents Robert and Lola Gardner and Arthur and Beth Farrar; and one aunt, Pam Lohnes.
Funeral Services for Jeff Farrar will be Sunday, September 3rd, 2017, at the Fred C. Dames Funeral Home 3200 Black and Essington Roads at 6:00 p.m. Rev Laura Zink officiating. Private interment will take place at a later date St Mary Cemetery in Minooka IL. In lieu of flowers, memorials to his daughter's education in the name of the Farrar Family, would be appreciated. Visitation will be held Sunday at 2 p.m. until the time of Service at 6 p.m. For more information please call (815) 741-5500 or visit his Memorial Tribute at www.fredcdames.com