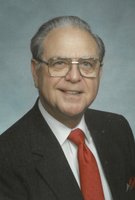 Donald J. Marsaglia
Donald J Marsaglia, age 93, passed away on August 29, 2017 in Sun Prairie, WI. Don was born April 26, 1924 in Coal City, IL to the late Martin and Libby (nee Valerio) Marsaglia. He was a lifelong resident of the Coal City and Joliet, IL area until moving into assisted living in Sun Prairie, WI in 2013. Don proudly served during WW II as a bombardier for the Army Air Force in the South Pacific and was awarded several medals and battle stars. He later attended reunions of the 43rd Bomb Group for many years.
He was employed by Metropolitan Life Insurance as a sales manager from 1955 until his retirement in 1987. He was a past president of Life Underwriters Association and of CLU, South Suburban Chapter. Don served as Mayor of Diamond, IL from 1968 - 1972. He was a Fourth Degree member of the Knights of Columbus, was a member of Joliet Black Hawk Barbershop Chorus and of the Cathedral of St Raymond Choir.
Don is survived by his wife of 20 years, Betty J Reed-Marsaglia of Sun Prairie, WI; his former wife, Shirley Marsaglia of Coal City, IL; son, Mark (Christie) Marsaglia of Lisle, IL; daughter, Lisa (Joe) Klepk of Lake Charles, LA; son, Michael (Mary) Marsaglia of Downers Grove, IL; his grandchildren, Kathleen (Matthew) Otzel of Naperville, IL, Matthew (Kristen) Marsaglia of Brooklyn, NY, Kathryn (Coy) Shaw of Mazon, IL, Jacob Klepk of Morris, IL, and Emily and Nicholas Marsaglia both of Downers Grove, IL; and his great-grandchildren, Matilda Otzel, Joshua Bradford, Brady Shaw, and Bella Shaw.
He is further survived by step-children, Shay Harris of Hartford, WI, Mary Reed (Tom Haberski) of Waunakee, WI, and TM Reed of Madison, WI; step-grandchildren, Alicia (Todd) Duffy of Carmel, IN, Olivia Harris of Hartford, WI, Marriah Harris of Richton Park, IL, Ryan (Micki) Reed of Shoreline, WA, Andrew Reed of Madison, WI, and Madeline Reed of Baraboo, WI; and step-great-grandchildren, Isabella and Isaiah Duffy and Elliana Mosby.
He was preceded in death by his parents and his step-daughter, Teresa Reed.
The family wishes to thank Agrace Hospice Care and New Perspective Senior Living for their care and support.
Don's songs and stories and smiles will be greatly missed.
Funeral services for Donald J. Marsaglia will be held at Tuesday, September 12, 2017 at 9:15 a.m. from the Fred C. Dames Funeral Home, 3200 Black at Essington Rds., Joliet, IL to the Cathedral of St. Raymond Nonnatus, 604 N Raynor Ave, Joliet, IL, where a Mass of Christian Burial will be celebrated at 10:00 a.m. Interment will be at Mt. Olivet Cemetery, Wilmington, IL. In lieu of flowers, memorials may be made in Don's name to Honor Flight Chicago (honorflightchicago.org), or to Black Hawk Barbershop Chorus, Joliet, IL. Visitation will be held on Monday, September 11, 2017 from 4:00 until 7:00 p.m. For more information, please call 815-741-5500 or visit his Memorial Tribute at www.fredcdames.com