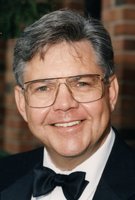 Roger B. Gomien
Roger B. Gomien
Roger B. Gomien passed away peacefully on August 27, 2017 at Morris Community Hospital after a prolonged and valiant battle with Parkinson's disease. Mr. Gomien was a native of Colfax, IL born on December 31, 1934 to the late Roy B. and Julia (nee Reed) Gomien. He graduated from Colfax High School in 1952 and from the University of Illinois School of Agriculture in 1956. As an undergraduate, he was a member of Chi Psi Fraternity and was elected to the honor society, Ma-Wan-Da. While in law school at the University of Illinois College of Law, he held a graduate assistantship in agricultural law and was a member of Phi Delta Phi honorary society. Mr. Gomien received his law degree and was admitted to the bar in 1962. In 1959 he married Penny Malina of Deerfield. She survives, along with son Rob (Terry), daughter Amy Casper (Todd), grandchildren Hope, Cole and Reed Casper, Russell and Juliana Gomien, sister Judy Kruse (Bill), niece Cindy Newsome (Thurman), nephew Roger Steven Kruse (Nell), and grandnephew and grandniece David and Emily Newsome.
Mr. Gomien rose to be a respected and highly accomplished attorney, learning from older mentors and in turn guiding and mentoring many young attorneys. Notable among these is Joan Harrop, who began as Mr. Gomien's secretary at the age of 22 and ultimately became his partner in the firm Gomien & Harrop. Mr. Gomien was a member of the Grundy County Bar Association, Livingston County Bar Association, Chicago Bar Association, Illinois State Bar Association and the Illinois Trial Lawyers Association.
Well known for his playful sense of humor, Mr. Gomien could lighten any situation with the perfect witty remark. Flying brought great joy to his life. He held a single engine commercial pilot's license and was a member of the American Bonanza Society. In his free time he loved to pilot his Beechcraft Bonanza, often treating his friends to a harrowing roller coaster event. Mr. Gomien was sometimes known to combine his interest in golf and aviation to closely inspect the golf course fairways from the window of his airplane, much to the dismay of the management of the Dwight Country Club.
Throughout his long career Mr. Gomien's heartfelt calling for justice led him to right many wrongs for those who needed a voice.
Memorial services for Roger B. Gomien will be Saturday, September 9, 2017 at 2 p.m. where family and friends will meet directly at Peace Lutheran Church, 101 Candlelight Lane, Morris, IL. As it was Roger's request, cremations rites have been accorded. In lieu of flowers, preferred donations be made out to the Roger B. Gomien Memorial Scholarship Fund. Memorial gathering will be Friday from 3:00-8:00 p.m. at the Fred C. Dames Funeral Home, 1201 W. Route 6 at Deerpath Drive, Morris, IL. For more information, please call 815-942-5040 or visit his Memorial Tribute at www.fredcdames.com