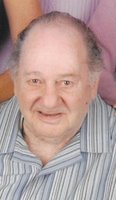 Raymond Jackson
Raymond Jackson
Raymond Jackson, age 91, of Joliet, IL passed away peacefully at home on Sept. 5, 2017 surrounded by his beloved family.
Raymond was born April 1, 1926 in Chicago, and retired from the Chicago Transit Authority after 29 years of faithful service as a bus driver. He bravely served our country during World War II as a member of the United States Navy. He was very proud to have participated in a recent Honor Flight to Washington, DC with his fellow veterans.
Beloved father of Linda Jackson of Joliet, the late Allen Jackson (2003), Sarah (the late Frank) Smith of Matteson, and Robin (David) Cannedy of Oneida, WI; and one sister, Zena Schwartz.
His beloved wife of 51 years, Rhoda (Gornstein) Jackson preceded him in death on December 5, 1991. One sister, Reva Goldberg also preceded him.
Raymond will be remembered most notably for being a loving and dedicated husband, father and primary caregiver of his disabled son, Allen, for 30 years, as well as for being a fun-loving and charismatic kid at heart who loved his trains, cartoons and toys. There were special moments with Raymond and Allen on fishing trips. They would always come home with a large catch. It was as if the fish knew Raymond and Allen were on the water and just jumped into the boat. Raymond had an appreciation for the arts and thoroughly enjoyed the meet and greets after attending plays and musicals at Joliet's Rialto Theatre. He had a "love for music". He was proud of all his collections, especially his coin collection, toy collection, and his record collection, which provided him hours of listening pleasure. He was an avid bowler and participated in a "Beat the Champs" Bowling Tournament and won first place. In 2016, Raymond celebrated his "90 years of awesome" birthday.
Special thanks to all the friends who have provided support to the family over the past few years, with very special thanks to Larry Biesemeyer and Mary Lou Hobe.
Funeral services for Raymond Jackson will be held Tuesday, September 12, 2017 at 10:00 a.m. at the Fred C. Dames Funeral Home, 3200 Black at Essington Roads, Joliet. Interment will be in Waldheim Cemetery, Forest Park, IL where all may gather at 11:45 a.m. Visitation will be held Monday, from 4:00 to 8:00 p.m. at the funeral home. For more information, please call (815) 741-5500 or visit his Memorial Tribute at www.fredcdames.com