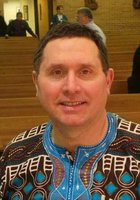 Taylor Gene Moore
Taylor Gene Moore
Taylor Gene Moore, age 58, passed away peacefully, Thursday, September 7, 2017 at Rush University Medical Center, Chicago, IL. He was born May 29, 1959 in Lacy, WA to Jerry T. "J.T." and Beverly G. (nee Taylor) Moore. Taylor loved higher math and was a math professor at Joliet Junior College with 12 years of service. He enjoyed intelligent conversation and all sports, but especially woman's college basketball. Taylor was a missionary with the Evangelical Lutheran Church of America in the Central Africa Republic. He served in the Peace Corp in West Africa in the County of Cameroon, where he met his wife, Prudencia, 25 years ago.
One of his greatest accomplishments professionally was his water purification project that provided fresh water to five villages in West Africa. He proudly spent time as a missionary influencing the youth to serve their communities and to serve the church.
Taylor is survived by his loving wife, Prudencia E. "Pru" (nee Mboh) Moore; his greatest accomplishments, his children, Jocelin Moore, Mediko Moore and Kinsley Moore; his mother, Beverly G. Moore; his siblings, Allison Moore and Clyde "CD" (Leslie) Moore; and many nieces and nephews.
He was preceded by his father, Jerry T. Moore.
Funeral Services for Taylor Gene Moore will be Sunday, September 17, 2017 at 4:30 p.m. from the Fred C. Dames Funeral Home, 3200 Black at Essington Rds., Joliet, IL to Messiah Lutheran Church, 19901 Houbolt Rd, Joliet, IL where services will be held at 5:00 p.m. In lieu of flowers, memorials to Messiah Lutheran Church or Gathering of the Nations International Ministries, 20 E. Cass St., Joliet, IL 60433 would be appreciated. Visitation will be SUNDAY from 2:00 p.m. until 4:30 p.m. at the funeral home. For more information, please call 815-741-5500 or visit his Memorial Tribute at www.fredcdames.com