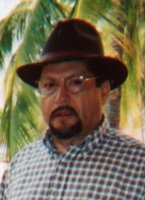 Eleazar "Lacho" Ochoa
Eleazar "Lacho" Ochoa
Age 68, of Morris, IL passed away peacefully Sunday, September 10, 2017 at his home surrounded by his loving family. Born February 4, 1949 to Julia (nee Esquivel) and the late Miguel Ochoa in El Tulillo, Jalisco, Mexico. He spent several years as a young fisherman in Sonora, Mexico and would consistently send money back home in support of his siblings. Eleazar then immigrated to the United States with the conviction that through listening, observing and working hard, would lead to good things for his family. After living in Chicago and Aurora, IL for a few years, he and his wife Maria settled in Morris where they have made their home and raised their family.
In addition to his wife of 33 years, he is also survived by his daughter, Julianna (Juan) Favela; sons, Ceasar, Norberto and Alejandro Ochoa; five grandchildren, Manuel Contreras, Mireya Favela, Juan "J.J." Favela, Jr., Iliana Mendoza and Giovanni Mendoza; his mother, Julia Esquivel Ochoa; sisters and brothers, Rigoberto, Luz Maria Madrigal, Miguel, Salvador, Blanca and Jose Ochoa. Many nieces, nephews and cousins also survive.
He was preceded in death by his father, Miquel Ochoa Montes.
Eleazar was part business owner of Broadway Auto Salvage, an automotive repair/salvage shop. He was previously employed at the former Jefferson Smurfit Co. of Morris and various other companies in the area.
He will be remembered fondly by his family as a loveable, comical, hard working role model. He had many skills and had a great personality which endeared him to many, including those who were looking for a good deal on various items Eleazar had for sale, trade or barter.
Visitation for Eleazar Ochoa will be held Wednesday, September 13, 2017 at the Fred C. Dames Funeral Home, 1201 W. Rt. 6 at Deerpath Dr. in Morris, IL from 3:00 – 8:00 p.m. A prayer service will conclude the evening at 8:00 p.m. Additional funeral services for Lacho will be held near his home town of El Tulillo next week. For more information, please call (815) 942-5040 or visit his Memorial Tribute at www.fredcdames.com