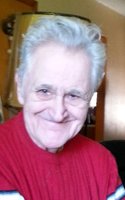 David E. Raboin
David E. Raboin
Age 80, of Channahon, passed away unexpectedly, Sunday, September 24, 2017 at home.
Born August 13, 1937 in Chicago, IL, he was a resident of Martinton, IL prior to moving to Joliet in 1956. David was a veteran of the United States Army, serving from 1961 to 1967. He retired from Caterpillar, Inc., Joliet, as a tool maker, and was a Registered Engineer and member of the Society of Manufacturing Engineers. David was also a member St. Ann Catholic Church of Channahon, Loyal Order of Moose, Modern Woodmen of America, Elks Lodge #296, St. Joe's Men's Association, AARP and Big Brothers and Big Sisters of Will County. He is a former member of St. Joseph Catholic Church in Rockdale.
Preceded in death by his parents, Eldon and Nellie May Raboin and a niece, Francine Louise Rudigur.
Surviving are his wife, Louise (nee Reese) Raboin of Swansea, IL; daughter, Deborah Raboin of O'Fallon, IL; sister, Sylvia (Bruce) Rudigur of Yorkville, IL; granddaughter, Lisa Marie (Benjamin) Burrow, of O'Fallon, IL; four great-grandchildren, Aubrey, Cooper, Hailey and Parker Burrow; and a nephew, Michael David Rudigur of Yorkville, IL.
Funeral Services for David E. Raboin will be held in Danville, IL and interment will be in Danville National Cemetery. Fred C. Dames Funeral Home, Joliet, is in charge of arrangements. For more information, please call (815) 741-5500 or visit his Memorial Tribute at www.fredcdames.com