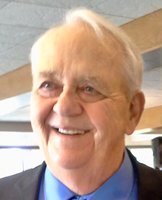 James John Heintz
James John Heintz
James John Heintz, age 71 suddenly passed away at Presence Saint Joseph's Medical Center surrounded by his loving family. James was born in Joliet, Illinois on April 7, 1946 to Garrett and Mary (nee Cankar) Heintz. He proudly served in the United States Army as a Private and was a retired carpenter from Local 174 after several years of dedicated service. In his spare time, James was a member of the Downers Grove Sportsman's Club and he thoroughly enjoyed trap shooting, hunting and fishing. He will be missed by all that knew him, especially his canine companion "Bo".
He was preceded by his parents; step-father, Robert W. Swanson, Sr.; sisters-in-law, Janet Heintz and Carol Barriger; his mother-in-law and father-in-law, Albert and Frances Barriger; and his devoted canine companions, Max and Maddie.
James is survived by his loving wife of 26 years, Sharon (nee Barriger); his daughters, Kristyn (Michael) Richter, Debra Lonask, Melissa (Dominic) DeHoyos, Sarah (William) Hough, Katherine (Elliot) Brtva; stepchildren, Ron (Barb) Greenfield, Gina (Chris) Hartman, Becky (Julio) Carrasco; grandchildren, Taylor, Zachary, Emily, Nicholas, Rebecka, Kayla, Alexander, Carson, Kevin, Joseph, James, Lillian, Kaylee (Steve), Kyle, Kiana, Cory, Austin, Collin, Allison, Payton, Caden; great-grandson, Leonardo; siblings, Robert Swanson Jr., Garrett (Patricia) Heintz, Kenneth (Kimberly) Swanson; brothers-in-law and sisters-in law, Richard (Sue) Barriger, James (Bess) Barriger, William Barriger, Michael (Linda) Barriger, Patricia (Roger) Houghlan and Deanna (Dennis) Jones; many aunts, uncles, nieces, nephews and cousins also survive.
Funeral Services for James John Heintz will be held on Tuesday, October 17, 2017 at 10:30 a.m. at the Fred C. Dames Funeral Home, 3200 Black at Essington Roads, Joliet, IL. Interment will be at Abraham Lincoln National Cemetery with full military honors under the auspices of the United States Army and the Abraham Lincoln National Cemetery Memorial Squad. In lieu of flowers, memorials to the family to be distributed to his favorite charities would be appreciated. Visitation will be held on Monday 3-8 p.m. For further information, please call 815-741-5500 or visit his Memorial Tribute at www.fredcdames.com