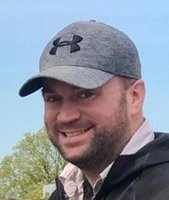 Kevin Joseph Brewer
Kevin Joseph Brewer, age 37, of Joliet, passed away Saturday, October 14, 2017, while on duty as a Will County Sheriff's Department Correctional Officer.
Kevin was born May 27, 1980 in Joliet, IL, and attended Troy Schools, Joliet West High School, Class of 1998, and Joliet Junior College. Kevin was a proud member of the Will County Sheriff's Department serving as a Correctional Officer on the Emergency Response Tactical Unit.
Kevin was the perfect combination of gentility and strength. He was a man who took pleasure in everyday life. If he couldn't be at home playing with his daughters, snuggling his wife, or drawing while watching "One Piece" or reading comics, he preferred to be at work having the six of all his brothers in black and brown, or eating tacos and drinking Mountain Dew in the EOC. Kevin has touched the hearts of many and will be smiling and combing his mustache while he continuously watches over all of those he loved.
Surviving are his beloved wife of 15 years, Brooke (nee Hernandez) Brewer; three daughters, Katherine "Kit", Elizabeth "Eliza" and Margaret "Margo"; his parents, Russell and Robin (nee Ziebell) Brewer; one sister, Tracy (Adam) Witt of Shorewood, IL; three nephews, Trent, Cole and Kyle; his wife's parents, Thomas and Joan Hernandez; a sister-in-law, Jennifer Hernandez; three nieces, Emerson, Celeste and Dalaney; two Goddaughters, Gabby and Ella Venegas; his brothers and sisters in black and brown; and Spiderman.
He was preceded by his grandma, Lillian "Kewpie" (nee Campbell) Ziebell, grandmother and grandfather, Harold "Dean"Connelly and Evelyn "Joann"(nee Comer) Connelly; and a brother-in-law, Thomas Hernandez (2016).
Funeral services for Kevin Joseph Brewer will be Friday, October 20, 2017 at 10:00 a.m. from the Fred C. Dames Funeral Home, 3200 Black at Essington Rds., Joliet, to St. John the Baptist Catholic Church, 404 N. Hickory St., Joliet, where a Mass of Christian Burial will be celebrated at 11:00 a.m. Interment will be in Woodlawn Memorial Park. In lieu of flowers, memorials in his name to his daughter's education fund would be appreciated. Visitation will be Thursday, from 12:00 until 8:00 p.m., at the funeral home. For more information, please call 815-741-5500 or visit his Memorial Tribute at www.fredcdames.com