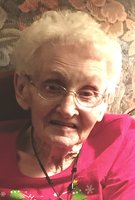 Betty A. Bravato
Betty A. Bravato
(nee Drauden)
Age 89, passed away peacefully Tuesday, October 31, 2017 at Alden Estates of Shorewood. She was born May 23, 1928 in Winfield, KS, the daughter of the late Fred and Leona (nee Dowd) Drauden. Betty married Nicholas Bravato on April 15, 1950. She was an avid sports fan and loved watching her grandchildren and great grandchildren participate in their activities. Betty was an active member of the C.C.W. and the 55 Club of St. Patrick Catholic Church. She was a loving wife, mother and grandmother. She will be sorely missed by all her friends from the Towers and Alden Estates of Shorewood.
Survived by her children, Beverly Sanderson, Linda (Ken) Zbacnik, Bob (Molly) Bravato, Mary Pat (John) Frye, Barbara Ludwig, Phyllis (Guy) Wimberly, Larry (Beth) Bravato, Nick (JoAnn) Bravato, Otto Bravato, Tom (Barb) Bravato and John Bravato; grandchildren, Amy, Mel, Nathan (Sara), Katey (Josh), Carol (Scott), Michelle, Tim (Kate), Amber (James), Robert (Jamie), Heather (Carl), Lindsey (Chris), Eryn, Jeremy (Laura), Derek (Nicole), Kailey (Jesus), Mat, Brittany, Samantha and Sydney; also surviving are her 20 great grandchildren; her daughter-in-law, Oriani Bravato; sister-in-law, Dolores Inouye and brother-in-law, Lenny (Mary Ann) Bravato.
She was preceded by her loving husband, Nicholas; her son, Steven Bravato and her parents.
The family would like to extend their heartfelt appreciation to the staffs of Joliet Area Community Hospice and Alden Estates of Shorewood for all their kind and compassionate care.
Funeral services for Betty A. Bravato will be Friday, November 10, 2017 at 11:00 a.m. from the Fred C. Dames Funeral Home, 3200 Black at Essington Rds., Joliet to St. Patrick Catholic Church for a Mass of Christian Burial at 11:30 a.m. Interment will be at Woodlawn Memorial Park II. In lieu of flowers, memorials in her name to Joliet Area Community Hospice or St. Jude Children's Hospital would be appreciated. A visitation will be at the funeral home on Friday morning from 9:00 a.m. until the time of services. For more information, please call 815-741-5500 or visit her Memorial Tribute at www.fredcdames.com