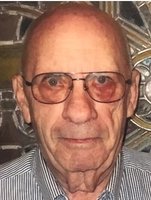 Darrell B. Stalnaker
Darrell B. Stalnaker
Age 78, of Shorewood, passed away peacefully on Sunday, November 5th, 2017. He was born September 20, 1939 in Sutton, WV. Darrell was raised in Oberlin, OH and graduated from Oberlin High School with the Class of 1957. He married Ilene Weaver on August 9, 1958 in Bloomingrose, WV and graduated from Marietta College in Marietta, OH with the Class of 1962 with a Bachelors Degree in Petroleum Engineering. Darrell had an extensive work history being employed by Halliburton Co. of Odessa, TX as a Lab Technician from 1962-1963, Mobil Oil as a Production Engineer, Canadian, Burkburnett, Wichita Falls and Midland, TX from 1963-1966, Natural Gas Pipeline Company of America as a Storage Engineer in St. Elmo, IL, Columbus Junction, IA, Sayre, OK, Herscher, Joliet and Oakbrook, IL from 1967 until his retirement in 1996. He was a former member of Plainfield Congregational United Church of Christ from 1983-2013 where he was the longtime Financial Secretary and a two term trustee. He was also a former member and trustee of Plymouth Congregational Church from 2013-2017. Darrell served many years with the Troy Band Boosters and was a member of the Joliet Elks Lodge #296 and the Shorewood Lions Club, where he served as President and long time Treasurer; he became the designated representative for the corporation with the State of Illinois.
Darrell is survived by his mother, Arlene Stalnaker (nee Deuley) of Oberlin, OH; his loving wife of 59 years, Ilene (nee Weaver) Stalnaker of Shorewood; his three children, Melody Miko of Waynesville, NC, Sean (Debbie) Stalnaker of Cabot, Arkansas and Janess (Javier) Reyna of Thomasville, NC. Darrell is also survived by his loving grandchildren, Joshua Ledlow, Gregory Thomas, Brandy (Charles) Miko Backus, Evan (Carissa) Stalnaker, Isabel, Aidan, and Isaac Reyna.
Darrell was preceded in death by his father, Elihu Sutton Stalnaker.
The family wishes to give a special thank you to Pastor William Beagle for all of his visits and prayers over the last weeks of Darrell's life. You are a great friend to him and to all of us.
As it was Darrell's final request, cremation rites have been accorded. Memorials in his name to Plymouth Congregational Church or Joliet Area Community Hospice would be greatly appreciated. A memorial service is planned for Sunday, November 12, 2017 at 3:00 p.m. at Plymouth Congregational Church, 24022 W Lockport St, Plainfield, IL. For more information, please call (815) 741-5500 or you may visit his Memorial Tribute at www.fredcdames.com