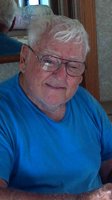 George Newton French, Sr.
George Newton French, Sr.
Age 85, passed away, Sunday, November 12, 2017 surrounded by the love of his immediate family.
George was born on September 25, 1932 in Roodhouse, IL and spent the majority of his life in the Joliet/Plainfield, IL area before retiring to Naples, FL where he could enjoy his favorite pastimes of fishing, boating, and camping year round. His passion for life was undeniable, second only to his love for his family. Proud Veteran of the U.S. Navy, his sense of humor, honor, and dedication to service gave him a full and well-rounded life; a life blessed with laughter, good friends, and many adventures with his boats, cars, and motorcycles. His zest for life included a love of roller coasters and thrill rides from his youth through recent years and he had deemed the Tower of Terror second only to the Parachute from Riverview.
He was preceded in death by his parents, Gilbert and Edith; his brothers, Frances, Donald, and William; and his first wife, Joann.
Survived by his cherished wife of 47 years, Alice (nee Kos); his children, Sharon (Ray) Gardner, George Jr (Sharon) French, Karen (Joseph) Lambing, Ali French, and Catherine Lee; his grandchildren, Matthew and Justin Morgan, Joe, Joshua, Justin, Joann, and Julie French, Joe (Shanna), Chris (Natasha), and Ben Lambing; and his "adopted" grandchildren, Stefan and Autumn Lee. He also is survived by six great-grandchildren, numerous nieces and nephews, many others that called him Papa/Dad French, countless friends and an infinite amount of loyal cousins.
His quick wit and sly grin was always ready with a joke, saying, or comment that spread joy and laughter everywhere he went.
Music was an essential part of George's life. He loved to play his trumpet and was proud to have earned first chair in the JT High School band and continued to play throughout his life, especially during his time in the Navy. He enjoyed attending band concerts of all levels, including school bands. With this in mind, his family asks in lieu of flowers, donations to St. Mary Immaculate Parish School, ATTN: Band, 15629 S. Route 59, Plainfield, IL 60544 to be made in his honor.
A Mass of Christian Burial will be celebrated on Saturday, December 2, 2017 at 10:30 a.m. at St. Mary Immaculate Catholic Church, 15629 S. Route 59, Plainfield, IL 60544. Inurnment will follow at St. Joseph Cemetery, Joliet. The family will receive all friends and relatives on Friday, December 1, 2017 at the Fred C. Dames Funeral Home, 3200 Black at Essington Rds., Joliet for a Memorial Gathering from 4:00 until 8:00 p.m. For more information, please call (815) 741-5500 or visit his Memorial Tribute at www.fredcdames.com