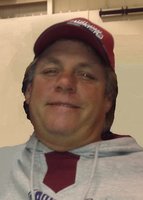 Dennis C. Garr
Dennis C. Garr
At the age of 51, on November 24, 2017, Dennis Garr passed away suddenly at Presence St. Joseph Medical Center as the result of an apparent heart attack with his loving wife by his side. Born in Berwyn and raised in Cicero and Lagrange Park before relocating to Joliet 14 years ago. He was a graduate of Lyons Township High School, Class of 1984. Dennis was a member of the Operating Engineers Union Local #150 and was a technically proficient and awesome crane operator for 28 years. He was the owner and operator of Bad Economy Lawn Care that he absolutely loved to work with his son, Phillip.
Dennis loved "Fast boats, Fast snow mobiles and Fireworks". He found peace and enjoyment in spending time with his family camping or fishing or just enjoying life. A 23 year member of the CeCo Club Campground, "Denny" could be seen there every summer. But what made Dennis most proud was watching his children play sports. He was known for his big heart and willingness to help anyone.
He was preceded by his father, Dennis A. Garr and his grandfather, Tony Garr.
Dennis is survived by his loving and devoted wife of 22 years, Kimberly (nee Moore) Garr and one son, Phillip Garr both of Joliet; three daughters, Stephanie Glassco of Chicago and McKenna "Nonny" and Kelsa "G Money" Garr both of Joliet; one beloved special nephew who was thought of as a son, Harley Babcock; one granddaughter, Madison Kraus; his mother, Marie (nee Pangoos) Garr of Lagrange Park; his grandmother, Lorraine (Jim Egan) Garr of Hinsdale; two brothers, Michael Garr and Christopher Garr; two sister, Georgette (Jimmy) Brinkman and Jennifer (Ryan) Spetih. Numerous aunts, uncles, nieces, nephews, cousins and his faithful canine companions, Jessie and Max aka Foo Foo also survive.
Funeral Services for Dennis C. Garr will be held Tuesday, November 28, 2017 at 8:00 p.m. at the Fred C. Dames Funeral Home, 3200 Black at Essington Rds., Joliet, with Pastor Andrew O'Neill officiating. As it was Dennis' final request, cremation rites will be accorded following his services. In lieu of flowers, memorials may be made to Dennis' children's education fund made in the name of the Garr family would be appreciated. Visitation will be held from 4:00 p.m. until time of services at 8:00 p.m. For more information, please call 815-741-5500 or visit his Memorial Tribute at www.fredcdames.com