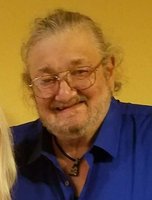 Frank Brzeczek, Jr.
Frank Brzeczek, Jr.
Age 69, of Joliet, and formerly of Evergreen Park, passed away peacefully on Friday, December 1, 2017 at Presence St. Joseph Medical Center surrounded by his loving family. He was born in Chicago, the son of Frank, Sr. and the late Cornelia (nee Onderwater) Brzeczek.
Frank proudly served his country in the Vietnam War with the U.S. Army. He was the former owner of Castle Ridge Enterprise, Inc. in Joliet. Frank's hobbies included working on race cars, watching and going to the races, restoring old automobiles, gardening and enjoying nature.
Frank is survived by his loving wife of 44 years, Mary Virginia (nee Dobbs) Brzeczek; his daughter, Charlotte Nicole Brzeczek; his father, Frank Brzeczek, Sr.; siblings, Cornelia (Thomas) Dobbin, Thomas (Tina) Brzeczek, Judith (Robert) Gale, Jacqueline (Kurt) Peterson, Timothy (Rebecca) Brzeczek and Ronald (Janeen) Brzeczek; and was the uncle of many nieces and nephews.
He was preceded by his mother, Cornelia (nee Onderwater) Brzeczek (2016).
Funeral services for Frank Brzeczek, Jr. will be held on Saturday, December 9, 2017 at 10:00 a.m. at the Fred C. Dames Funeral Home, 3200 Black at Essington Rds., Joliet. Interment will follow at Elmhurst Cemetery. Visitation will be Friday, from 2:00-8:00 p.m. For more information, please call 815-741-5500 or visit his Memorial Tribute at www.fredcdames.com