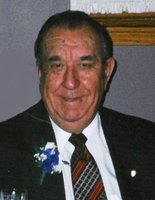 Norman J. Nemanich
Norman Joseph Nemanich
"Norm"
Norman Joseph Nemanich passed away peacefully on Thursday, January 4, 2018, at the age of 87. A lifelong resident of Joliet, he was born on August 26, 1930. He attended St. Joseph Grade School, Joliet Catholic High School and Lewis University. Norm was employed at Ruberoid, CECO Steel, and retired from Thomas Steel Corporation.
He enlisted in the United States Navy in March of 1951, received his boot training at Great Lakes, and then was stationed in Quonset Point, Rhode Island. He is a proud Veteran of the Korean War and was discharged from service in March of 1955.
Norm was a lifelong parishioner of St. Joseph Church in Joliet, where he served many years on both the parish and school councils. He was a member of The Holy Name Society, KSKJ, Old Timers Baseball Association, American Legion Post 1080, Moose Lodge, Moran AC, Club 66, Town and Country Tavern Bowling League and Northwest Recreation Club. He was an avid golfer and liked his weekly card games. Norm loved watching sports; he was a Notre Dame and a White Sox fan, but his favorite sport's team was the San Francisco Giants. He will always be remembered for his kind, compassionate and selfless acts of giving, as well as his famous two liner, "Oh Geez", and his nightly ice cream sundae.
Norm married Marilyn (nee Brennan) on September 19, 1959. They shared a beautiful union and together enjoyed traveling and socializing with friends, but their greatest joy was their family and raising their two children Norm and Susan. Later, being called "Grandpa" was as close as he could get to perfection.
Surviving are his loving children, Norm (Mary) Nemanich and Susan (Rick) Kamrowski. He was the dearest grandfather of Natalie, Nicholas, Nathan and Nolan Nemanich, and Macenna Kamrowski and is also survived by numerous nieces, nephews, cousins and friends.
He was preceded in death by his beloved wife of 45 years, Marilyn (November 19, 2004); his parents, John and Mary (nee Simonich) Nemanich; one brother, John (late Clarice) Nemanich; two sisters, Evelyn (late Frank) Lustick and Dorothy (late Jerry) Horvat; and his father-in-law and mother-in-law, William and Rose (Schulze) Brennan.
Funeral services for Norman J. Nemanich will be held Tuesday, January 9, 2018 at 9:15 a.m. from the Fred C. Dames Funeral Home, 3200 Black Rd. (at Essington Rd.), Joliet, to St. Joseph Catholic Church, 416 N. Chicago, Joliet, where a Mass of Christian Burial will be celebrated at 10:00 a.m. Interment will follow at St. Joseph Cemetery. In lieu of flowers, memorial contributions in Norm's name to St. Joseph Catholic Church in Joliet would be appreciated. Visitation will be Monday from 3:00-8:00 p.m. at the funeral home. For more information, please call (815) 741-5500 or visit his Memorial Tribute at www.fredcdames.com