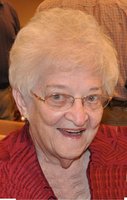 Dorothy B. Stoiber
Dorothy B. Stoiber, (nee Randich), age 92, of Romeoville, passed away peacefully on Sunday, January 7, 2018. Born in Lockport, Township, she was the daughter of Marion and Patricia (nee Wicevic) Randich. Dorothy attended Chaney Grade School and Lockport Township High School. Dorothy was also a 27 year cancer survivor. She was a member of St. Anne Catholic Church, Crest Hill, and the Will County Senior Citizens.
Dorothy was a devoted wife, mother, grandmother and great grandmother, whose life was grounded in her faith. When Dorothy was not spending time with her family, she would visit the elderly at area nursing homes. Dorothy was also an avid card and bingo player, and perfected the best rice krispie treats.
Dorothy is survived by her children, Norman (Peggy) Stoiber of Crest Hill, Gerald (Joan) Stoiber of Mokena, Bernard Stoiber of San Diego, CA, Lynn (David) Mattioli of Eagan, MN, and Joseph (Eileen) Stoiber of Chicago; her nine grandchildren, Thomas, Brian (Juli), Jeffrey, Jason and Jacob Stoiber, Nicholas Mattioli, and Brendan, Anne and Chloe Stoiber; two great-great grandsons, Tyler and Ryan Stoiber; two sisters, Eleanor (late Victor) Carlson of Westmont and Patricia (John) Skoog of Minnesota; her brother, Donald (Bette) Randich of Romeoville; and sisters-in-law, Lillian, Linda and Carol Randich. Numerous nieces, nephews and cousins, as well as her dear friends at Senior Star at Weber Place, also survive.
She was preceded by her loving husband, Norman R. Stoiber (January 9, 2008); her parents; sisters, Marion (Albert) Wason and Irene (William) Glad; brothers, Robert, Lawrence, James, John and Edward (Ann) Randich.
Funeral services for Dorothy B. Stoiber will be held on Saturday, January 13, 2018 at 9:15 a.m. from the Fred C. Dames Funeral Home, 3200 Black at Essington Rds., Joliet, to St. Anne Catholic Church, 1702 Dearborn, Crest Hill, where a Mass of Christian Burial will be celebrated at 10:00 a.m. Interment will follow at St. Mary Nativity Cemetery. Visitation will be held on Friday from 3:00 to 8:00 p.m. For more information, please call 815-741-5500 or visit her Memorial Tribute at www.fredcdames.com