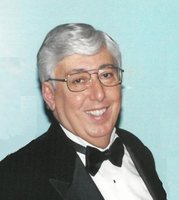 Dr. Theodore M. Kanellakes, M.D.
Theodore M. Kanellakes, M.D.
Age 75, of Joliet, IL, passed away peacefully on Monday, January 8, 2018 at Presence St. Joseph Medical Center in Joliet, IL.
He was born August 7, 1942, the son of proud Greek immigrants, Milton T. and Helen (Tsatsos) Kanellakes in Harvey, IL, where he was raised. A graduate of Thornton Township High School, he received a Bachelor's Degree from the University of Wisconsin in Madison before continuing his education at the Stritch School of Medicine at Loyola University. Dr. Kanellakes completed his residency in Internal Medicine at St. Louis University Hospitals before he entered the U.S. Army Medical Corp., serving from 1971-1973, at Ft. Leonard Wood, MO; after being Honorably Discharged from the Army, Doctor began his Fellowship in Ann Arbor Michigan at the University of Michigan.
Survived by his loving wife, Patricia (Smith) Kanellakes; beloved sons, Milton Kanellakes, Ted (Elaine) Kanellakes and Christian (Dana) Kanellakes; dearest grandchildren, Giana and Nicholas and twins, Christian and Natalia; his dear sister, Efrosine "Effie" Kanellakes; and Patricia's son, daughter and granddaughter, Darcy Parsons, Dana Parsons and Gretchen Fitzgibbons.
He was preceded by his parents.
Dr. Ted Kanellakes was a dedicated advocate and servant to the mission of Presence Saint Joseph Medical Center. With a 37 year career as a distinguished Joliet-based allergist on the Medical Staff at St. Joe's, Dr. Kanellakes has made a difference in countless lives in our community.
Ted is well known in the community for his selfless service. He was a Founding Father of the Will-Grundy County Medical Clinic (for the indigent), has been President of the Board and currently was a Medical Advisory Committee member. He was a recipient of the 2015 PSJMC Pandola-Lewis Award, 2012 PSJMC Founders' Award, the 2008 Lewis University DeLaSalle Award, and a top finalist for the Physician of the Year Award at PSJMC in 2007.
Ted will always be remembered for his time in the spotlight on the WJOL radio program "Doctors Call" for the Will Grundy Medical Society. Ted has had a variety of other community involvement, including service at Silver Cross Hospital, the Easter Seal Rehabilitation Center of Will-Grundy County, the Parent Advisory Board for Special Education for Joliet Grade School District #86, and the Chicago Chapter Board of Medical Advisors at the Asthma and Allergy Foundation of America.
Ted was the Chairman of the Department of Medicine for fifteen years, the President of the Medical Staff, a past member of the Divisional Board and was a current member of the Presence Saint Joseph Medical Center Foundation Board. He also served as a co-chair of the Foundation Gala for four years with his wife Patti, alongside Bill and the late Carol Koc.

A loving husband, wonderful father and devoted grandfather, Dr. Kanellakes will also be remembered fondly as a truly compassionate and understanding physician and friend, who took the time to listen, learn and formulate a treatment plan for all, no matter their means. Every treatment plan was stamped with genuine concern and kindness, perhaps the best medicine of all.
The Kanellakes family will forever be grateful to the doctors, nurses and staff at Presence St. Joseph Medical Center for their kindness, compassion and friendship throughout the years.
Funeral services will be held Friday January 12, 2018 8:30 a.m. from the Fred C. Dames Funeral Home to All Saints Greek Orthodox Church, 102 N. Broadway St., Joliet, where services will begin at 9:30 a.m. Interment will follow at Abraham Lincoln National Cemetery in Elwood, IL. In lieu of flowers, memorials in his name can be made to All Saints Greek Orthodox Church Endowment Fund, Will-Grundy Medical Clinic or Presence St. Joseph Medical Center Foundation. Visitation will be held on Thursday from 3:00 – 8:00 p.m., with Trisagion Services at 6:00 p.m. at the funeral home. For more information, please call (815) 741-5500 or visit his Memorial Tribute at www.fredcdames.com