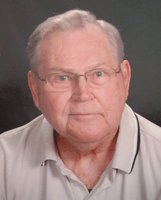 Gene E. Hoffman
Gene Eldon Hoffman, 86, of Remer, MN, passed away peacefully on Tuesday, December 26, 2017, at the VA Medical Center in St. Cloud, MN.
Gene was born July 31, 1931 to the late Eldon and Pauline (nee Brown) Hoffman in Joliet, IL where he was raised and educated. He proudly served in the U.S. Navy from August 16, 1951 to August 13, 1953. On October 18, 1952, he married Beverley Copas. The couple raised their family in Joliet, where Gene worked as a field engineer for Commonwealth Edison until his retirement in 1985. Gene enjoyed fishing, gardening, and landscaping and he was a jokester enjoyed by all! He also loved to cook and bake. Gene worked for the Shepherd's Table for St. Paul the Apostle Catholic Church in Joliet and was an active member of St. Edward's Catholic Church in Longville, MN.
Gene is survived by his wife, Beverley (nee Copas) Hoffman; sons, David Hoffman (William Shaw), Kenneth Hoffman (Karen Larson) and Michael Hoffman (Kathy St. Lawrence); daughters, Terrie Wronkiewicz, Pennie (Patrick) Crowley and Cynthia (Michael) Armes; nine grandchildren; six great-grandchildren; Gene's faithful canine companion, Mr. Tibbs; brothers, John (Beatrice) Hoffman and Lawrence (Carol) Hoffman; sister, Carolyn Ward; and five nieces and nephews.
He was preceded by his parents.
A Memorial Mass for Gene Eldon Hoffman will be held on Friday, January 12, 2018 at 10:00 a.m. at St. Paul the Apostle Catholic Church, 18 Woodlawn Ave., Joliet. Inurnment will follow at Abraham Lincoln National Cemetery, Elwood, IL. Fred C. Dames Funeral Home entrusted with arrangements. For more information, please call 815-741-5500 or visit his Memorial Tribute at www.fredcdames.com