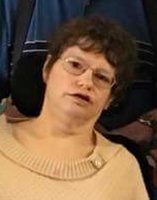 Elaine Ballantyne
Elaine Ballantyne
(nee Tharp)
Elaine Ballantyne, passed away, at the age of 51, after a short illness on Sunday, February 4, 2018, at Presence St. Joseph Medical Center in Joliet, surrounded by her family. Elaine was born on August 3, 1966, to the union of James and Norma (nee Clark) Tharp. She was born and raised in Joliet, IL, before moving to Sterling and Rockford, IL, for the past 31 years. Elaine was a graduate of Joliet Central High School and received her Associates Degree from Sauk Valley College. She met and married the love of her live, Christopher Ballantyne, on February 15, 1986, at Winning Wheels in Prophetstown, IL, with approximately 200 family members and friends in attendance. Celebrating 32 years of marriage together this month, they proved to so many what true love is by living life by their motto: "We are not handicapped, we are handicapable".
Elaine and Christopher did everything together, including their annual trip, or vacation as they called it, to Camp Horizon in Hudson, IL. The camp, as well as the counselors, became their second home and family.
Elaine is survived by her father, James Tharp; one sister, Diane (David) Palmer; one brother, Paul (Deena) Tharp; brothers and sisters-in-law, Neil (Joan) Styczynski, Mark (Ann) Styczynski, Lyn (Lenny) Greenberg, Jan (Lyle) Hagan, and Kris (Brent) Hoover; dear friend, Janice Pinkston; several aunts, uncles, nieces, nephews and cousins; and her entire Camp Horizon family.
Preceded by her loving husband, Christopher Ballantyne (January, 2018); her mother, Norma Tharp; her grandmother, June Rebinskas; her father-in-law, Russell Fullerton; and her husband's grandparents, Earl and Isabel Detweiler.
A visitation for Elaine Ballantyne will be held on Saturday, February 10, 2018, from 1:00 to 5:00 p.m., at the Fred C. Dames Funeral Home, 3200 Black at Essington Rds., Joliet, IL. As it was her request, cremation rites will be accorded following the visitation. A Celebration of Life will take place on Saturday, February 17, 2018, at 1:00 p.m., at the Journey Church Ministries, 7825 Forest Hills Rd, Loves Park, IL. Inurnment will follow at East Jordan Cemetery, Sterling, IL. For more information, please call 815-741-5500 or visit her Memorial Tribute at www.fredcdames.com