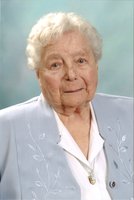 Sr. M. Dominic Krivich, OSF
Sister M. Dominic Krivich, OSF
Sister M. Dominic Krivich, OSF (1925 – 2018) died at Our Lady of Angels Retirement Home, Joliet, Illinois, on Thursday, February 8, 2018. A native of Chicago, Illinois, Sister Dominic Krivich (Dolores Krivich) is one of five children born to Mary and Dominic Krivich. She was preceded in death by her parents; her brothers, John, James and Edward; and her sister, Edith Pietryzk. She is survived by numerous nieces and nephews. Sister Dominic was a beloved member of the Sisters of St. Francis of Mary Immaculate for 76 years.
Sister Dominic was a member of Sacred Heart Parish, Englewood, IL, and attended the Parish Grade School before coming to Joliet to attend St. Francis Academy. She earned her Bachelor's Degree at the College of St. Francis (University of St. Francis), and a Master's Degree in Diagnostic Reading from Cardinal Stritch College in Milwaukee, Wisconsin.

Sister Dominic began what she called, "her life's passion in the field of education", in 1945 teaching second graders at Sacred Heart in what was then called Hubbard Woods, IL, and now Winnetka, IL. Her educational ministry encompassed elementary grade schools as a teacher and principal, service as a reading consultant for the Joliet Diocesan Catholic School Office, and co-founder and co-director of the Fran Center (a program to assist students at various levels in remedial education) in Darien, Illinois.
In 1985, Sister Dominic began a new phase in her life when she ministered at Our Lady of the Ridge Parish in Chicago Ridge, IL, as a Pastoral Minister. In the 20 years she served at Our Lady of the Ridge Parish, she coordinated the training program for Ministers of Care and performed various outreach ministries to the elderly, the homebound and those in nursing homes and hospitals.
In 2009, Sister Dominic moved to Our Lady of Angels Retirement Home in Joliet, Illinois, where she resided for the past 9 years.

The wake for Sister Dominic will be at Our Lady of Angels Retirement Home, 1201 Wyoming Avenue, Joliet, IL, (Wyoming and Rt. 30) on Thursday, February 15, 2018 from 2:00 – 6:45 p.m., with a Prayer Service at 4:45 p.m. and Mass of Christian Burial at 7:00 p.m. The Funeral Procession will leave from Our Lady of Angels on Friday morning, February 16, 2018, at 9:00 a.m. The Interment will take place at Resurrection Cemetery in Romeoville, IL.
Memorials may be made to the Sisters of St. Francis of Mary Immaculate, 1433 Essington Road, Joliet, IL 60435.
Fred C. Dames Funeral Home in charge of arrangements. For more information, please call 815-741-5500 or visit her Memorial Tribute at www.fredcdames.com