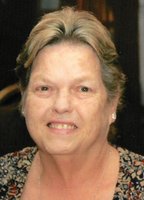 Patricia Beverly "Patty" Johnson
Patricia Beverly Johnson, "Patty", (nee Hudnall), age 73, passed away on Friday, February 9, 2018 at Presence St. Joseph Medical Center, Joliet. Born on November 3, 1944, in Charleston, WV, she was the daughter of the late Charles M. and Theda (nee Proctor) Hudnall.
Patty was a loving wife, mother and grandmother who will be remembered for her sense of humor, the joy she brought to her family, and how much she loved and spoiled her grandchildren.
She is survived by her loving husband of 57 years, John Robert "Bob" Johnson, Sr. of Plainfield; four children, John R. (Valerie) Johnson, Jr. of Riverside, Richard A. (Sheila) Johnson of Joliet, Russell E. (Karen) Johnson of Plainfield and Tracy C. (John) Kaphusman of Shorewood; six grandchildren, Megan, Erica and Adam Johnson and John, Jason and Jake Kaphusman; five sisters, Clara Ivon Coleman, Vivian Runyon, Sheila Shamblin, Sue Barnett, Sharon Hanna; and many nieces and nephews.
She was preceded in death by her parents; two sisters, Doris Richardson and Gloria Hudnall; and one brother, Charles E. "Buddy" Hudnall.
Funeral services for Patricia Beverly Johnson will be held on Friday, February 16, 2018, at 10:30 a.m., at the Fred C. Dames Funeral Home, 3200 Black at Essington Roads., Joliet. Interment will follow at Plainfield Township Cemetery. In lieu of flowers, memorials in her name to the family would be appreciated. Visitation will be held on Thursday from 4:00 to 8:00 p.m. at the funeral home. For more information, please call 815-741-5500 or visit her Memorial Tribute at www.fredcdames.com