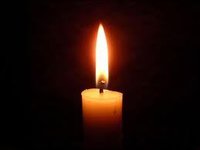 Frances Madonis
Frances (Grepares) Madonis, born in Joliet, Illinois on December 22nd 1935, passed away at Senior Star Memory Care, Romeoville, Illinois on Thursday, March 1, 2018.
Frances and her husband, Angelo, owned and operated Angelo's Restaurant in Rockdale for many years before retiring and moving to Florida.
She is survived by her sons, John (Janene), Andrew (Rebecca), James (Margie) and Angelo.
Frances is also survived by her sister, Andrea (Demetrios); her brother, Theodore (Pattie) Grepares; her Grandchildren, John (Nicoleta), Michael (Christine), Andrew, Angela, Alexander, Katherine, Christina, and Angelo; and her Great-Grandchildren, Charlee, Averie, Andrew, Lilyana, Matthew and Aria.
Frances is preceded in death by her parents, Andrew & Florence Grepares; her sisters, Isabelle Miller and Mary Grepares; her brother, John (JoAnne) Grepares; and numerous aunts and uncles.
Much appreciation to the entire staff at Senior Star and also Joliet Area Community Hospice for their outstanding care.
A private ceremony was held and Frances will spend eternity beside her loving husband of 58 years.
Fred C. Dames Funeral Home is in charge of arrangements. For more information, please call (815) 741-5500 or visit her Memorial Tribute at www.fredcdames.com