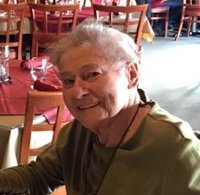 Florence L. Gerstung
Florence Leavitt Gerstung passed away March 5, 2018 at the age of 95. Florence was born October 3, 1922 in Dublin, Michigan, a small town in Manistee County. She was one of thirteen children born to Earle Van Ness Leavitt and Ilo (nee Snyder) Leavitt.
Florence graduated from Baldwin High School at age 15 and boarded a train for Chicago to begin her adult life. She married Harry O. Gerstung in 1947. They moved to Lombard where for 13 years she was director of the first co-op nursery school until they left for Morris where they bought a farm, established and operated a campground, Waupecan Valley Park, for more than 50 years.
During those Morris years, she sat on the board of Sheltered Workshop, on the Morris Ministorial Area Committee where Florence, along with three other committee members created and organized "We Care" and administrated it for the first three years. Florence was co-chair of "Citizen's Against Federal Take-Over" (CAFT), pertaining to the nuclear reprocessing facility in rural Morris. She was on the steering committee to create a recreation course at Illinois Valley Community College in Oglesby, and also on the committee that developed and wrote the Rules and Regulations for Illinois Public Health Recreation Licensing Act.
She was a founding member of the Illinois Campground Association, executive director for 10 years and was on the board of the Heritage Corridor Convention and Visitors Bureau for 8 years, three of which she was president. Florence was an Unitarian and a member of the Universal Unitarian Church of Joliet, she volunteered on day a week for nearly two decades at Under His Wings resale shop, an avid reader of everything printed, an active antique dealer for many years and will always be remembered as an enthusiastic passenger in her husband Harry's vintage Cessna tail dragger as they traveled extensively thru the US, Mexico and Canada. She remained, employing honesty, integrity and common sense, the dynamic director of Waupecan Valley Park.
Survived by daughter April Gerstung, Susan Laughlin of Morris and sister, Violet Wessman of Wrightsville, PA, plus many nieces and nephews also survive.
As it was Florence's request, cremation rites have been accorded under the direction of Fred C. Dames Funeral Home, 1201 W. Route 6 at Deerpath Drive, Morris. For information (815) 942-5040 or visit her Memorial Tribute at www.fredcdames.com