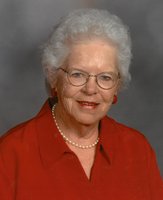 Gretchen M. Peterson
Gretchen M. Peterson
1922 - 2018
Age 95, of Joliet, previously a longtime resident of Rockford, IL, passed away peacefully on Wednesday, April 4, 2018.
She was born in Centerville, IA, on June 1, 1922, to Mary Viola (nee Stout) and Newton Glenn Moorman, Sr. The family relocated to Rockford when Gretchen was age five; she was the eldest and last surviving sibling of six children.
Gretchen was a member and graduate of the last class of Rockford Central High School. She then continued her education taking courses at Rock Valley College in travel and other areas of interest.
Gretchen married John C. Peterson on May 23, 1942. They were lovingly devoted to each other in marriage, for over 50 years, until John passed away in 1992. Shortly after their marriage, John volunteered and served as a Gunnery Sergeant in the Marine Corps Raiders in the South Pacific during WWII. Gretchen kept the home fires burning by serving in the USO and working for Western Union during WWII. She also worked for Sundstrand, Ed Thorne's Hardware and Illinois National Bank.
She had a kind and loving soul and was a Mother, Grandmother, Big Sister and Friend to all; Gretchen was the family matriarch. She and John opened their home to many family members over the years. Gretchen had an adventurous spirit; she and Johnny enjoyed traveling the country with family and friends, going to Florida, Las Vegas and taking fishing trips to Minnesota. Gretchen and her sister, Katy, researched the family lineage and were inducted into the Daughters of the American Revolution (DAR). One of Gretchen's favorite pastimes was playing cards with her family and her friends.
Gretchen has always been active in the community. She was a lifetime member of the Moose and a member of the Greater Park Action Committee (GPAC) of Loves Park for over 25 years. During her tenure at GPAC, she served in the capacities of President, Vice-President and Treasurer. Gretchen used her knitting and crocheting skills to contribute to a prayer shall ministry. John and Gretchen have also previously made and sent dolls to an orphanage in Mexico for Christmas.
Gretchen is survived by her loving daughter, Cathleen "Katie" Messing; granddaughter, Mary Kate Messing; numerous nieces and nephews; many great nieces and nephews; and family friend, Zenep Goktepe.
She was preceded by her beloved husband, John C. Peterson; parents, Newton and M. Viola Moorman; siblings, Ross L. Moorman, Edna V. (Joseph) LaSalla, Newton G. Moorman, Jr., Kathleen A. (H. Martin, Jr.) Stanquist and Grant L. Moorman; and loving friend, Salvator "Sam" Valenza, Sr.
Our hearts are filled with gratitude to the staff of Joliet Area Community Hospice and Sunny Hill Nursing Home of Will County for all of their loving support.
A Memorial Service for Gretchen M. Peterson will be held on Saturday, April 14, 2018 at 10:30 am at Beth Eden United Methodist Church, 3201 Huffman Boulevard, Rockford, IL 61103 with Reverend Robert Sathuri officiating. In lieu of flowers, please send memorials to Joliet Area Community Hospice. A luncheon for family and friends will follow the service at the church. Funeral arrangements entrusted to the Fred C. Dames Funeral Home. For more information, please call 815-741-5500 or visit her Memorial Tribute at www.fredcdames.com