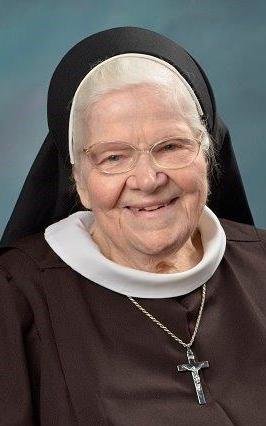 In Memory of
Sr. M. Peter Didier, O.S.F.
1921 - 2016
Obituary of Sr. M. Peter Didier, O.S.F.
Sister M. Peter Didier, OSF (1921 - 2016) died at Our Lady of Angels Retirement Home, Joliet Illinois on June 27, 2016. A native of Evanston, Illinois, Sister Peter Didier is one of fourteen children born to Emma and Aloysius Didier. She was preceded in death by her parents, her brothers: James, Aloysius, Herbert and Arnold and her sisters: Sister M. Ambrose, Sister M. Johanna, Sister Mary Therese and Pauline Krueger. She is survived by her brothers: Jerome (Patricia) and Paul (Lisa) Didier and her sisters: Lorraine Schuetz, Marcella Merriman, Barbara Flynn and her sister in law, Mary Sue (Herbert) Dider. Sister Peter was a beloved member of the Sisters of St. Francis of Mary Immaculate for 77 years.
Sister Peter attended St. Mary's School in Des Plaines, Illinois, and graduated from St. Patrick Academy in Des Plaines, Illinois. She received her Bachelor of Science degree with a major in chemistry from the College of St. Francis (University of St. Francis) in Joliet, Illinois, and her R.N. from St. Joseph School of Nursing, Joliet.
From 1945 until 1950 Sister taught math and science at St. Francis Academy (Joliet Catholic Academy). After receiving her Nursing Degree in 1953, Sister Peter ministered as nurse for her congregation at St. Francis Convent. On January 26, 1962 when Our Lady of Angels opened its doors to residents, Sister Peter moved into the building, where she ministered as nurse and Director of Nursing until her retirement in November 1998. Sister Peter continued to call Our Lady of Angels "home" in her retirement years thereby earning the distinction of being the resident who lived at OLA for the greatest number of years.
The wake for Sister Peter will be at Our Lady of Angels Retirement Home, 1201 Wyoming Avenue, Joliet, IL, (Wyoming and Rt. 30) on Tuesday, July 5, 2016 from 2:00 - 6:45 p.m., with a Prayer Service at 4:45 p.m. and Mass of Christian Burial at 7:00 p.m. The Funeral Procession will leave from Our Lady of Angels on Wednesday morning, July 6, 2016, at 9:00 a.m. The Interment will take place at Resurrection Cemetery in Romeoville, IL.
Memorials may be made to the Sisters of St. Francis of Mary Immaculate, 1433 Essington Road, Joliet, IL 60435.
Proudly Serving the Communities of Joliet, Morris, Shorewood, Plainfield, New Lenox, Manhattan,
Rockdale, Wilmington, Braidwood, Channahon, Minooka, Coal City, Seneca and Ottawa Illinois. Serving
Will, and Grundy and Kendall Counties and as an approved airline transportation specialist nationwide
and global services.