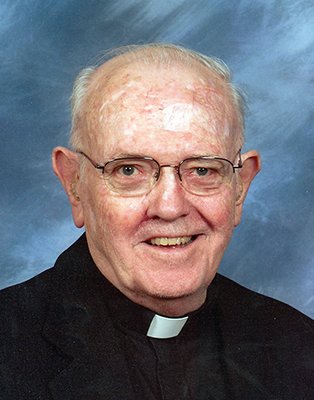 Obituary of Rev. William Condon
Rev. William F. Condon
Rev. William F. Condon died on July 27, 2016 at St. Luke's Hospital in The Woodlands, TX. He was 89 years old. Father Bill was born on April 20, 1927 in Joliet, IL.
In his 62 years of priesthood, Father Bill fully embraced the power of Liturgy. His pastoring and his powerful sermons were his trademarks. When asked for a copy of his sermons, speeches and notes he always said that he did not have any. He spoke from his heart and his mind. If you ever had the opportunity to meet him, then you know his presence was palpable, captivating and beyond intriguing. He was a man not easily forgotten. Yet, he was neither arrogant nor prideful. Each encounter was a gift. His conversations gently tested your myopic views and challenged you to see beyond your narrow borders.
Father Bill was a lifelong fan of both the Chicago Cubs and Notre Dame Football. He was fond of travelling, especially to his beloved Ireland, playing bridge with his many companions and enjoying the company of all he encountered. He lived in the moment and involved everyone in conversation. He also sang his favorite songs out loud in his booming voice even when there was no music to accompany him.
Father Bill's education included schooling at St. Raymond Nonnatus and Joliet Catholic High School, both in Joliet, IL. In 1945 he began his priestly training at Quigley Preparatory Seminary in Chicago, IL. From there he enrolled at St. Mary of the Lake Seminary, Mundelein, IL in 1947.
Father Bill was ordained into priesthood on May 1, 1954 by most Rev. Martin D. McNamara at the Cathedral of St. Raymond Nonnatus, Joliet, IL. He served as Associate Pastor at St. Patrick Church and the Cathedral of St. Raymond Nonnatus, both in Joliet, IL, before being named in 1963 as the founding Pastor of St. Raphael Church in Naperville, IL, where he remained until 1978.
After 1963, Father Bill was an enthusiastic promotor of the vision of the Church proclaimed in the deliberation of Vatican Council II and embodied in its documents. He encouraged laity to take ownership of their Church deriving from the power of their Baptism. Father Bill felt strongly that only when all give full, conscious and active participation will we know and feel the fulfillment of God's presence in His Church.
After a sabbatical year and brief service at St. Joseph, Downers Grove, IL, and St Mark, Wheaton, IL, Father Bill moved to the Diocese of Richmond, VA. There he served as Pastor at three parishes, Church of the Redeemer, Mechanicsville, VA, St. Edward the Confessor, Richmond, VA, and St Ann, Colonial Heights, VA from where he retired from active pastoring in 1997.
In retirement Father Bill lived in Clarksville, VA until January 2001 when he moved to Mesa, AZ to be closer to dear friends and his beloved Cubs' spring training facility. He continued ministering at weekend Liturgies, primarily at St. Dominic in Rio Verde, AZ and Mission of Ascension Church in Fountain Hills, AZ. In 2012, he performed a brief period of service with Hospice of the Valley ministering to dying Catholic patients in the region. Father Bill's last residence was at the Verandah Retirement Community in Lake Charles, LA where he moved in 2014 to be close to family members.
He was preceded in death by his parents, John R. Condon and Cecile M. (Bannon) Condon, his brother Patrick, his brothers-in-law William Flavin and William Hartmann, his sister-in-law Norma (Steinke) Condon and nephew Patrick Hartmann. Surviving are two sisters Marilyn (Condon) Flavin of Lake Charles, LA and Virginia (Condon) Hartmann of Joliet, IL as well as 21 nieces/nephews and numerous grand-nieces/nephews and great-grand-nieces/nephews. "Father Bill", as he was known by his nieces and nephews, was a Great Uncle to all! He enjoyed spending many holidays, attending sporting events and vacationing with his many family members. He was also overwhelmingly requested as the presiding priest at numerous family baptisms, 1st Communions, weddings and funerals. We would be remiss in not sharing what an amazing, fun and loving uncle he was. His exuberance for life was contagious. He told us he needed at least 8 hugs a day to grow. He made each of us feel as if we were his "favorite" niece or nephew. He had a knack for making holidays special and fun. He played Let's Make a Deal to hand out our Christmas presents. Each year as part of our Christmas celebration, he purchased tickets and accompanied all of his nieces and nephews along with their parents to a fancy theatre to watch one of the classic movies of the time such as The Sound of Music. Several summers, he took each of his siblings' family on vacation to Wisconsin where we had our first experience water skiing. He will be greatly missed.
Father William F. Condon will Lie In State at St. Raphael Catholic Church, 1215 Modaff Rd, Naperville, IL 60540 on Thursday, August 4, 2016 from 3 - 6 p.m. Mass of Christian Burial will be celebrated Friday, August 5, 2016 at 10:30 a.m. Father Bill will be placed in eternal rest at a family plot in Mount Olivet Cemetery, Joliet IL. Memorials in his name to Catholic Charities of Joliet would be appreciated. Funeral services under the direction of Fred C. Dames Funeral Home, 3200 Black (at Essington Rds.), Joliet. For further information, (815) 741-5500