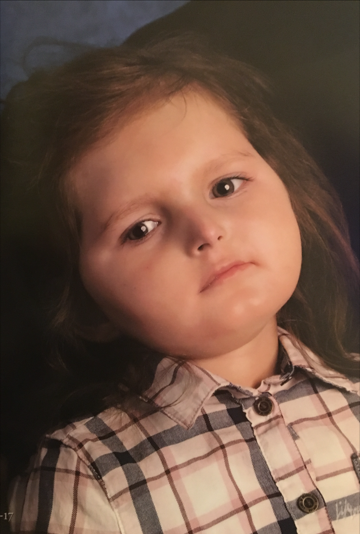 Obituary of Alexandria Stojanov
Alexandria Rae Stojanov
At the age of 6 years, our little angel has ascended into Heaven on Monday, February 6, 2017 from Lurie Children's Hospital, Chicago.
As children we often dream of superheroes: a person of great strength, who can overcome unthinkable challenges, someone who can make the world feel right by the touch of their hand. On April 13th 2010, a true Super Girl was born, Alexandria Rae Stojanov.
Alexandria came into this world as the greatest gift her parents, Valerie and Tony, had ever known. Her smile lit up the room, her giggle felt like sunshine filling their hearts, and the touch of her sweet hand felt like the closest thing to heaven. Five years later, Alexandria, Valerie, and Tony were blessed again by Alexandria's younger brother, Christopher.
Ten months after Alexandria was born she was diagnosed with a brain tumor. This unexpected diagnosis lead to a very long and daunting road for her and her family. Knowing Alexandria, she would not want us to remember her for the illness she faced; she would want us to focus on her and her family's unconditional love and unbelievable strength.
Through the five and a half years that followed, Alexandria touched countless lives. Her bravery inspired every adult and child she met. Alexandria and her parent's strength and courage helped her overcome odds that doctors could not explain. While our hearts cannot understand why God decided this time He needed Alexandria to join Him in heaven, we can find comfort in what He has said:
Matthew 11:28
Then Jesus said, "Come to me, all of you who are weary and carry heavy burdens, and I will give you rest".
We know Alexandria is now resting in God's hands growing her angel wings. We know she can still feel our love and will always know her grandparents hugs, her mommy's gentle kiss on her sweet lips, her daddy's cheeks lying upon hers, and her brother's kisses while holding her hand.
We will hold a forever place in our hearts remembering Alexandria resting in her favorite purple chair and cuddling on the family room floor with Christopher. We will hold tight remembering the day she sat with Valerie's loving help wearing her super girl costume, her love of music and smile when she heard friends sing songs to her, and her love of going in the pool on warm summer days.
Alexandria will always be alive in us and in every part of our day. We will remember her beautiful smile, gentle touch of her hand, her bravery and monumental strength. When we see her favorite color purple, we will think of her. When Christopher starts to sing the ABCs or we hear the song "let it go" we will remember how much she was loved and is now missed. We will remember the gentle smile she gave her parents letting them know she felt their love and that's all she needed to feel safe.
Alexandria had a gift of making rainbows out of rain. As our tears fall hard like rain, there's comfort knowing our tears are becoming her rainbows in heaven.
Cherished daughter of Antonio and Valerie (nee Fite) Stojanov; a big sister to Christopher; precious granddaughter of Paulette Casey and James (Mary Beth) Fite all of Plainfield, Jordana and Stojan Stojanov of Darien; dearest great-granddaughter of Joan Landando of Plainfield and Flo Fite of Joliet; sweetest niece of Danielle (Andy) Crymes, James (Heather Faybik) Fite, Naum (Molly) Stojanov and Blazo (Beti) Ristov. Special God daughter of Ray and Sonya Vasilevski and a cousin to many.
Preceded by her maternal grandfather, Ray Fite.
Visitation for Alexandria will be held on Friday, February 10, 2017 at the Fred C. Dames Funeral Home 3200 Black (at Essington) Rds, Joliet from 2-7 p.m. Funeral services and interment will remain private for the immediate family. For more information, please call 815-741-5500 or visit her Memorial Tribute at www.fredcdames.com.