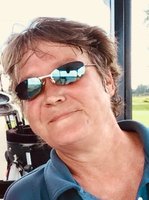 Denise Marie Patrick
Denise Marie Patrick, age 53, of Joliet, passed away Saturday, December 2, 2017 at Joliet Area Community Hospice Home, from multiple complications which began with the diagnosis of breast cancer in October 2016, with her devoted family by her side.
Born July 25, 1964 in Blue Island, she was a graduate of Lincoln-Way Central High School where she was an All-State softball player. She later attended Valparaiso University where she also played softball and was a stand-out pitcher and journalism major.
Denise worked in numerous management and marketing positions throughout her career including for Marshall Fields at Water Tower Place, Chicago.
An awesome friend, a loving sister and a beloved aunt, she will be remembered for her kind, nurturing and joyous spirit. To her nieces and nephews she was the fun and silly "Neenee" with whom they loving spending time. Denise was loved equally by children and older persons. She will be missed forever.
Surviving are her partner, Toni Vandarakis of Joliet; her brothers and sisters, Ranea (Timothy) Breen of Birmingham, AL, Mark Patrick of Mokena, Seanne (Pat) Buckwalter of Manterville, MN, Kelly (Mark) Muehlnickel of New Lenox, and Colleen (Richard) Lenart of Mokena; her nieces and nephews, Ashley and Timothy Jr. Breen, Michelle, Mark and Michael Patrick, Amanda and Molly Muehlnickel, and Charlie and Jake Buckwalter; and a dear aunt, Mazie (Gene) Matanyi of Arizona.
She was preceded in death by her parents, Sandra (nee Swart) and John Patrick and Robert Deady; and her beloved grandmother, Lorretta Swart.
A Memorial visitation for Denise Patrick will be held Tuesday, December 5, 2017 from 9:00 to 11:00 a.m. at St. John United Church of Christ, 11100 Second Street, Mokena, IL 60448. A Memorial Service will be conducted at 11:00 a.m. Interment will be private.
Memorials in her name to the American Cancer Society or Morning Star Mission would be appreciated.
Fred C. Dames Funeral Home has been entrusted with the arrangements. For more information, please call (815) 741-5500 or visit her Memorial Tribute at www.fredcdames.com