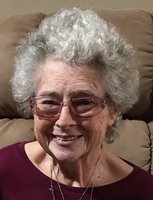 Marilyn June Klotz
Marilyn June Klotz, (nee Buss), age 82, a lifelong resident of Joliet and Shorewood, passed away Thursday, October 4, 2018 at Presence St. Joseph Medical Center.
Born May 27, 1936 in Joliet, she was the daughter of Emerson Clyde and Sabina M. (nee Behrend) Buss, and attended Farragut and Joliet Central High Schools. For a number of years, Marilyn worked for the United States Department of Agriculture.
Surviving are her children, David (Marilyn) Klotz, Kenneth (Cathy Craig) Klotz, Debra Howard, Barbara (Roy) Helmstetler, Michael (Rachel) Klotz and Jeffrey Klotz; twelve grandchildren; her brothers and sister, Donald (Mary Agnes) Buss, Mildred (the late Richard) Buss-Delong, Robert (JoAnn) Buss and Paul (Annette) Buss; and many nieces and nephews.
She was preceded in death by her beloved husband, David Stephen Klotz; her parents; a brother, Elmer Buss; and a sister, Maude Buss.
Funeral services for Marilyn Klotz will be held Saturday morning, October 6, 2018 at 11:00 a.m., from the Fred C. Dames Funeral Home, 3200 Black at Essington Roads, Joliet, to Faith Lutheran Church, 353 North Midland Avenue, Joliet, where services will be conducted at 11:30 a.m. Interment will be in Woodlawn Memorial Park.
Visitation will be Saturday morning, October 6, 2018 from 9:00 to 11:00 a.m., at the funeral home.
For more information, please call (815) 741-5500 or visit her Memorial Tribute at www.fredcdames.com