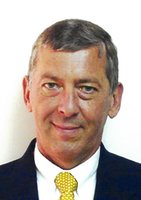 James P. Shapard
James P. Shapard, age 72, of Joliet, IL, passed away peacefully at home on New Year's Day.
He was born on October 22, 1946 in Valparaiso, IN, to Phillip and Lucille (Johnson) Shapard. He graduated from Valparaiso High School in 1963, attended Athens State University in Georgia, majoring in business administration and subsequently received a Masters of Public Administration from the University of New Hampshire.
Jim was the Town Manager of Winchester, NH, prior to becoming Village Administrator of Shorewood, IL, and the Deputy City Manager in Joliet from 1987 until his retirement in 2008.
He is survived by his loving wife, Ava; his sister, Karen (Tom) Pomrening; three nephews; one niece; five grandnephews; two grandnieces; mother-in-law, Beatrice Scolavino; and sister-in-law, Eve Scolavino.
Jim proudly served his country in the United States Army for sixteen years, specializing in explosives, ordinance, and demolition. He was especially honored later in life to work as a volunteer at Joliet Area Community Hospice, recognizing veterans for their service.
During Jim's employment with the City of Joliet, he was the project manager for the development of the concept and construction of the Joliet Area Historical Museum. He also worked with other community leaders in developing the Joliet Area Sports Hall of Fame and was instrumental in securing infrastructure funding for major arterial streets.
In retirement, Jim's love for scuba diving was refined as he became a dive instructor. He certified many students to dive and was with them and friends on over 1,000 dives. His hobby took him and Ava to beautiful beaches and reefs throughout the diving world.
Interment will be held at a later date at the Santa Fe, New Mexico Veteran's Cemetery.
The family wishes to extend their sincere thanks to the Joliet Area Community Hospice for their expert care and also to the many friends who have given their love and support. In lieu of flowers, memorial donations in his name to the Joliet Area Community Hospice would be appreciated. For information, please call 815-741-5500 or visit his Memorial Tribute at www.fredcdames.com