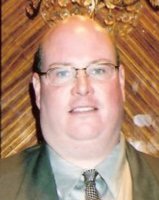 Gerard Peter Supple
Gerard Peter Supple, age 54, of Shorewood, passed away peacefully Thursday, January 3, 2019, at his late residence, surrounded by his loving family.
Born July 17, 1964 in Evergreen Park, he was the son of the late Thomas and Rosemary (nee Ward) Supple. A graduate of Marist High School and EMT school, he enjoyed a rewarding career as a registered CNA and House Supervisor with Cornerstone Services. Gerard was raised in St. Thomas More Parish, Chicago, then attending Holy Family Catholic Church after moving to Shorewood. He enjoyed taking his dog, Bailey, to the Hammel Woods Dog Park, watching scary movies and scary clowns.
Surviving are his brothers and sisters, Mary Anne (Robert) Britz of Elburn, Phillip J. (Patricia) Supple of Austin, TX, Patricia E. Supple of Minooka, Kathleen M. (Joseph) Farej of McHenry, Thomas V. (Mary) Supple of Sycamore, William J. (Jeanna) Supple of Edwardsville, Bridget R. Supple of Shorewood, Elizabeth J. Supple of Shorewood, Father Richard A. Supple, O.Carm., of Osprey, FL, and Daniel C. (Sharon Teeling-Supple) Supple of Shorewood; many nieces and nephews and great nieces and great nephews; two aunts, Anita Smith and Roseann Ward; one uncle, Frank Supple; numerous cousins; and a special friend, Lori Partilla.
He was preceded in death by his parents; one brother, Michael Supple and one sister, Carolyn Supple.
Visitation for Gerard Supple will be held Sunday, January 6, 2019 from 1:00 to 6:00 p.m. at the Fred C. Dames Funeral Home, 3200 Black Road, Joliet. Funeral services will be held Monday, January 7, 2019 at 9:15 a.m. from the funeral home chapel to Holy Family Catholic Church, Shorewood, where a Mass of Christian Burial will be celebrated at 10:00 a.m. Interment will be in St. Mary Cemetery, Evergreen Park, IL.
For more information, please call (815) 741-5500 or visit his Memorial Tribute at www.fredcdames.com