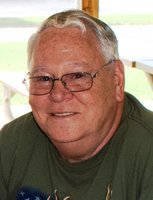 Kenneth A. "Ken" Studer, Sr.
Kenneth A. Studer, Sr.
"Ken"
Age 77, passed away suddenly Tuesday, January 8, 2019. Born February 2, 1941 in Joliet, he was the son of the late Anthony and Mary (nee Bajt) Studer. Ken was the owner of Fast Printing of Joliet. He was an accomplished musician and accordion player. His first love was his band, The Sounds of Ken Studer, for over 40 years.
Ken is survived by the mother of his six children, Carole Studer; his children, Jim (Gina), Kenny (Tammie), Denise (Peter) Hegarty, Chris (Nancy Centko), Melissa (Rainier) Galliano, and Nichole (Joe) Feistamel; grandfather of Jonathan, Stephanie, Sean, Nick, Connor, David (Jenny) Pleski, Ryan Hegarty, Brandon (Stephanie Ratz), Justin, Ashton, Hayden, Logan and Kaden Galliano, Noelle and Makenzie Feistamel; great grandfather of Talon; his siblings, Jerry and Anthony "Chip" (Ella); and sister-in-law, Marianne Studer. Many nieces and nephews also survive.
He was preceded in death by his parents; one brother, Greg; and wife, Sandy Studer.
Visitation for Kenneth A. Studer, Sr. will be held on Friday, January 11, 2019, from 3:00 until 7:00 p.m., at the Fred C. Dames Funeral Home, 3200 Black at Essington Rds., Joliet. On Saturday, family and friends will meet directly at Resurrection Cemetery Interment Chapel, 135th/Romeo Rd. at Rte. 53, Romeoville, at 11:00 a.m. In lieu of flowers, memorials in his name to the charity of the donor's choice would be appreciated. For more information, please call 815-741-5500 or visit his Memorial Tribute at www.fredcdames.com