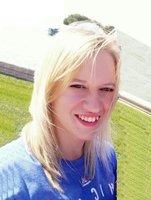 Melissa V. Campbell
Melissa V. Campbell
At the age of 26, Melissa went home to be with the Lord on Saturday, March 9, 2019, at the Joliet Area Community Hospice Home with her family by her side. Life had a different meaning for Melissa following the loss of her second child Lilly, on December 25, 2018. We are sure on Friday, February 22, 2019 when she woke up that morning she never thought this would be her last day on Earth; tragically, she was found unresponsive later that day by circumstances that everyone thinks would never happen to them.
Melissa was born in Nogales, AZ and was formerly of Downers Grove, Chicago and recently Plainfield, IL. Melissa received her Associate's Degree of Arts from the College of DuPage and was a graduate of Downers Grove North High School. She was employed at Domino's Pizza as a manager for over 10 years. Melissa was a loving and devoted mother to her son, Jaxson. She loved taking him to the park and watching him play.
She was preceded in death by a beautiful light in her life, her daughter Lilly.
Melissa is survived by her loving son, Jaxson; her mother, Kim (David Shafer) Emanuel of Plainfield; three sisters, Amanda (Brent McDaniel) Campbell of Chandler, TX, Lainey Campbell and Emilie Shafer both of Plainfield; and two brothers, Shawn Campbell of Elgin and Dylan Campbell of Plainfield. One niece, two nephews and several cousins also survive.
Visitation for Melissa V. Campbell will be held on Thursday, March 14, 2019 from 3:00 until 7:00 p.m., at the Fred C. Dames Funeral Home, 3200 Black at Essington Rds., Joliet. Funeral Services will begin at the funeral home chapel FRIDAY MORNING with a Prayer Service at 9:15 a.m. to St. Joseph Catholic Church, 416 N. Chicago St., Joliet, where a Mass of Christian Burial will be celebrated at 10:00 a.m. As it would have been Melissa's request, cremation rites will be accorded following her Funeral Mass.
In lieu of flowers, memorials may be made to the Emanuel family for the care of Melissa's son, Jaxson, or you may visit https://www.gofundme.com/medical-and-care-expenses-for-melissa
For more information, please call 815-741-5500 or visit her Memorial Tribute at www.fredcdames.com