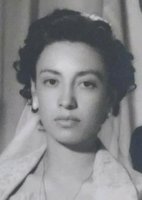 Pilar Zamora
Pilar Zamora
(nee Cuevas)
Pilar Zamora, age 84, a longtime Chicago resident, passed away peacefully on Monday, June 24, 2019, at the home of her daughter in Joliet, IL. She was born October 12, 1934 to the late Maria Diaz and Luis Cuevas in Mexico City, Mexico.
She is the beloved mother of Henry Zamora, Nelly (Armengol) Chavez, Augustin Zamora, Fernando Zamora, Nancy Zamora (Larry Moore) and Pilar (Gilberto) Goyco.; devoted grandmother of Jasmine, Jonathan, Jackie; Belen, Christopher; Abby, Cesar; Jayleen, Jerry; Christopher, Kyla, Sevaeh; Jenevieve, Alex and Julian; proud great-grandmother of Jazlyn, Alyssa, Iliana, Aidan, Sean, Isaiah, KaiLani, Andre, Amelia, Xavier, Kaleb, Khloe, Edbel, Jancarlo, Isabella and Roy; and dear sister of Martha, Luis, Maria, Rosa Maria, Juan, Raul, Victor, Maricela and Heriberto Cuevas. Pilar was also a wonderful and caring aunt to several generations of nieces and nephews.
Preceded in death by her parents and two brothers, Guilermo and Roberto Cuevas.
Pilar will be remembered fondly as an excellent cook who enjoyed gardening, crocheting and folding clothes. She was also a very caring child care provider over the years who shared such close bonds with not only her own grandchildren, but also many youngsters in her Westown neighborhood in Chicago, where she resided since the mid 1960's.
A Memorial Visitation for Pilar Zamora will be held on Saturday, June 29, 2019, from 5:00 p.m. until time of Services at 6:00 p.m., at Faith and Power Church, 200 Reverend Walton Drive, Lockport, IL. Pastor David Varga will officiate. Interment will be held privately by the family. Fred C. Dames Funeral Home is in charge of arrangements. For more information, please call 815-741-5500 or visit her Memorial Tribute at www.fredcdames.com