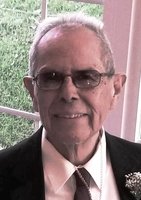 Margarito M. "Mago" Torres
Margarito H. "Mike" "Mago" Torres, age 85, of Joliet, passed away peacefully, Saturday, August 24, 2019 at the Joliet Area Community Hospice Home, surrounded by his loving family.
Born January 13, 1934 in Fresnillo, Zacatecas, Mexico, he came to Joliet in 1956. For 34 years, he worked for GAF Corporation, and later worked for Commonwealth Edison for 14 years until his retirement.
Mago was a loving and devoted husband, father, grandfather and great-grandfather. He served as an example for his entire family and his hard work and devotion to his family and friends will never be forgotten.
Surviving are his beloved wife of 63 years, Ramona (nee Rocha) Torres; four children, Irma (Fernando) Rodriguez of Joliet, Alicia (Xavier) Rodriguez of Plainfield, Michael Torres of Joliet, and Raymond (Dina) Torres of Joliet; 10 grandchildren, Carla (Domingo) Tinoco, Jason (Lydia) Rodriguez, Daniel (Teresa) Rodriguez, Dianna (Shawn) Meinke, Nicole Torres, Kristen (A.J.) Novotny, Michelle (fiancé Mike) Torres, Jessica (Jason) Rowland, Raymond Torres, Jr., and Nico (fiancée Gabrielle Smith) Torres; 12 great-grandchildren, Brandon, Justin, Isabel, Cristian, Landon, Zoey, Zane, Addison, Ava, Alyssa, Lana and Audrey; three brothers, Manuel, Jesus and Antonio Torres; one sister, Julietta Torres; and many nieces, nephews, and Godchildren.
He was preceded in death by his parents, Manuel and Soledad (Hernandez) Torres, a daughter-in-law, RaeMarie Torres; and siblings, Juanita Galvan, Maria Medina, Elena Torres, and Ramon Torres.
Visitation for Margarito Torres will be held Thursday, August 29, 2019 from 3:00 to 8:00 p.m. at the Fred C. Dames Funeral Home, 3200 Black at Essington Roads, Joliet. Funeral services will be held Friday, August 30, 2019 at 9:00 a.m. from the funeral home to Our Lady of Mt. Carmel Catholic Church, 205 E. Jackson Street, Joliet for a Mass of Christian Burial at 10:00 a.m. Interment will be in Woodlawn Memorial Park.
For more information, please call (815) 741-5500 or visit his Memorial Tribute at www.fredcdames.com