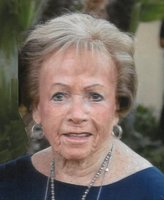 Jean Streitz
Jean Streitz, age 90, of Joliet, passed away peacefully, Saturday, August 31, 2019 at the Joliet Area Community Hospice Home, surrounded by love.
Born on November 25, 1928 in Joliet, IL Jean was the daughter of James Leo and Bernice Marie (nee Elenwood) Kavanaugh. She was preceded in death by her beloved husband, Dr. Richard Francis "Dick" Streitz (March 21, 2017); her parents; and her brother and sister-n-law, James and Barbara Kavanaugh.
Jean and Dick were married in 1953 and started their wonderful family shortly thereafter. Jean is survived by her children, Richard (Mary) Streitz, Nanette (Philip) Coon, Colleen (Martin) Buehler, and Dr. Mark (Ann) Streitz; her grandchildren, Weston Streitz, Chapin (Stephen) Konsler, Sarah (Nathan) Byram, Katherine (Michael) Bohling, Morgan (Adam) Zanotti, Martin Buehler Jr., Callie and Ryan Streitz; her great-grandchildren, McKenna, Main and Reilly Byram, McCoy Konsler and Ryker Zanotti; her brother-in-law, Dr. Thomas (Susan) Streitz; her many nieces and nephews; and her devoted black lab, Piper.
Jean attended Rollins College where she earned her bachelor degree. She then went on to Northwestern University where she was awarded her teaching degree in Elementary Education.
Jean's community service was extensive. She was a member of the following organizations: JACH Guild, the Visitation and Aid Society, the Joliet Country Club and the Catholic Family Ministry. She was the co-chair of the Hospice Fashion show "Puttin' on the Glitz" for 25 years and received an award for her outstanding contribution. Jean, along with her husband Dick, was one of the founders of Joliet Area Community Hospice Home and St. Paul the Apostle Catholic Church and School where she remained a devoted member.
Jean was always "on the move". From her role as carpool mom, to an afternoon of bridge, to dancing, to skiing down mountains "Out West", to playing tennis and golf, her interests varied. Whether it was time at home, time in Wisconsin's Northwoods, time in Innisbrook, FL or other vacation spots, Jean relished her travels with family and friends.
Jean will be remembered for her contributions to the Joliet community, for her interest in people, for her genuine friendship, for her ability to make people laugh, and for her sincere appreciation of family and friends. She will be missed greatly.
The family would like to extend deep appreciation for the devoted and compassionate care given to Miss Jean by her dear Lina, Carol, Dee, Mary Ellen, Margie and Marie, and for the support and dignity provided by Joliet Area Community Hospice. Jean and her family will be forever grateful for JACH's assistance both at her house and at the JACH Home.
Visitation for Jean Streitz will be held Saturday, September 21, 2019 from 10:00 a.m. until the time of services at 11:00 a.m., at St. Paul the Apostle Catholic Church, 18 N. Woodlawn Avenue, Joliet. Interment in Resurrection Mausoleum, Romeoville, will be private.
In lieu of flowers, memorials in Jean's name may be made to Joliet Area Community Hospice or St. Paul the Apostle Catholic Church and School.
Fred C. Dames Funeral Home is in charge of arrangements. For further information, please call (815) 741-5500 or visit her Memorial Tribute at www.fredcdames.