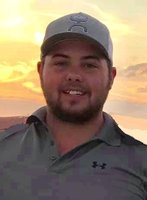 Jason Daniel Frost
Jason Daniel Frost
Jason Daniel Frost, age 21, of Channahon, passed away suddenly on Saturday, August 31, 2019. Jason was born on September 24, 1997 in Palos Heights, IL. He was raised in the Channahon/Minooka area and was a graduate of Minooka Community High School.
Jason is the cherished son of Kim (John) Anders and Jeffery Frost (Toni); beloved brother of Kylie Dryier, Justin (Victoria) Frost and Bailey Anders; amazing uncle to Liv Matrisciano, Brenna and Presley Frost; treasured grandson of Janis (Irv) Ruhl, Richard Dunn Jr., and Donna Frost; adored nephew of Pam (Steve) Sliman, Tricia (Joe) Marchert, Rick Dunn, Tom Dunn, Laurie (Scott) Jackson and Lynnette Ritz; crazy cousin of Lauryn, Joey and Erin Marchert, Jude Sliman, Kaley and Cole Jackson.

Jason was a friend to all, especially Brandon, Nick P., Steven, Tyler, Tess, Nick S., Savannah S. and Mitch.
He is preceded in death by his grandfather, Thomas Frost.
Jason loved being a part of Pipefitters Local 597, where his true passion was met and where he formed many friendships working on the pipeline across the country. When he wasn't working you could find him enjoying the outdoors, dancing, spending time with friends and family, and of course making his nieces laugh.
Jason was always the center of attention and always made people laugh and feel loved. His smile lit up rooms and his big hugs will be tremendously missed.
Funeral Services for Jason Daniel Frost will be held at 11:00 a.m. on Wednesday, September 4, 2019 at the Fred C. Dames Funeral Home, 3200 Black at Essington Rds, Joliet, IL. Interment will follow in Willard Grove Cemetery, Channahon. Visitation will be held on Tuesday September 3, 2019 from 3:00 p.m. to 8:00 p.m. at the funeral home. In lieu of flowers, memorials in his name to your favorite charity would be appreciated. For more information call 815-741-5500 or visit his Memorial Tribute page at www.fredcdames.com