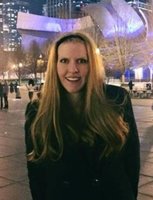 Valerie Kathleen Murphy
Valerie Kathleen Murphy
Valerie Kathleen Murphy of Chicago, passed away unexpectedly on Wednesday, September 25, 2019 at the age of 28. Valerie was born on March 14, 1991, the daughter of Seth Murphy and the late Diane L. (nee Schelkopf) Warning. She was born and raised in Joliet, attended Troy Grade School and was a graduate of Joliet Catholic Academy, Class of 2009. Involved in the Girl Scouts as a young girl, she enjoyed spending that time with her mom, who was her Troop Leader. She had a love for animals, particularly horses, was enamored with the Edgewater District of Chicago and treasured her time spent with those she loved.
Valerie had an outgoing personality and an infectious smile. She flourished in her job as a server, as it gave her a chance to meet new people, have interesting conversations and make people laugh. Her ability to morph into different personalities to best serve her customers was something that she took great pride in; she believed the world was her stage when she was at work.
Valerie is survived by her children, Nolen Murphy and Azra Russell; her father, Seth Murphy; grandmother, Nancy Schelkopf; aunt Carol (Dennis) Post; uncles Eric (Sonya) Schelkopf and Shaun (Kim) Murphy; cousins, Coleen and Kiya Murphy and Brianna Post; step-dad, Jeff Warning; and her dear friend, Mark.
She is preceded in death by her mother and grandparents, Terrance and Kathleen Murphy.
Visitation for Valerie Kathleen Murphy will be held on Saturday, September 28, 2019 from 1:00 p.m. until the time of service at 4:00 p.m. at the Fred C. Dames Funeral Home, 3200 Black at Essington Rds., Joliet, IL. As it was her request, cremation rites will be accorded after the services. Interment will be held privately by the family at a later date. In lieu of flowers, memorials to the Valerie Murphy Treasured Memories Fund for the benefit of her children would be appreciated. For more information, please call 815-741-5500 or visit her Memorial Tribute at www.fredcdames.com