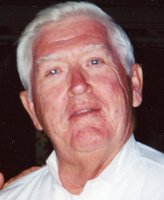 Pete Donovan
Pete Donovan, age 83 of Morris, IL passed away Friday, September 27, 2019 at Regency Care of Morris. Pete was born in New Lisbon, WI and raised on the south side of Chicago. He was a graduate of De LaSalle High School in Chicago and St. Mary's College of Winona, MN. He spent 2 years in the U.S. Army at Fort Benning, GA. He was employed by Ashland Chemical Company for many years as a salesman and prior to that worked at the Burrough's Corporation. Pete loved to hunt and especially fish. He loved fishing in Wisconsin and even traveled to the Arctic Circle for a fishing trip. He also loved to travel the country. No one will debate Pete's claim that he drove over a million miles without a ticket or accident.
After marrying Janice Schmidt in 1974, they lived in Wonder Lake, IL and Mentor, OH before moving to Palos Heights, IL where he resided for many years prior to relocating to Morris in 2017. Pete was the kind of person who would talk to everyone and make you laugh.
He was preceded in death last year by his beloved wife of 46 years, Janice, whom he adored. He was also preceded by his parents, John and Edwardine (White) Donovan and two brothers, John and Thomas Donovan.
He will be dearly missed by his three daughters, Anne (Joel) Losch of Round Lake, IL, Mary (Chris) Brittain of Lee, MA and Pat (Bob) Beezhold of Portage, IN and four grandchildren, Kelly, Ryan, Abby and Nathan Beezhold; three sisters, Ann (the late John) Vogt of King of Prussia, PA, Mary Donovan of Seneca, IL and Jane (the late Mike) Tjemmes of Beecher, IL, and his brother Bill (Cheryl) Donovan. He will also be dearly missed by numerous nieces, nephews and their families, cousins, and his dear friends, Bill and Carol Delladio and Owen and Rosalie McAteer.
Funeral services for Pete will be Tuesday, October 1, 2019 at Immaculate Conception Catholic Church, 600 E. Jackson St., Morris where a Mass of Christian Burial will be celebrated at 11:00 a.m. Visitation will be at the church from 10:00 a.m. until time of Mass. Cremation rites will be accorded following services and final inurnment will be at Abraham Lincoln National Cemetery on Wednesday, October 2, 2019 at 10 a.m. Fred C. Dames Funeral Home is in charge of arrangements. For more information, please call (815) 942-5040, or visit his memorial tribute at www.fredcdames.com.