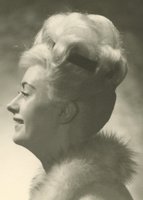 Kathryn Corrine "Kathy" Layfield
Kathryn Corrine Layfield
"Kathy"
Kathy Layfield, of Joliet, passed away at the age of 75, on Monday, October 28, 2019. She suffered from severe, debilitating rheumatoid arthritis, which was the cause of several falls over the past five years and left her homebound. Her strength to persevere was incredible until the very end. She is certainly in a better place, free from pain, where she can run with her dogs and drive around town in the convertibles she loved so much in her 20s.
Kathy was born on November 2, 1943 in Joliet, Illinois, to Walter J. and Margaret M. (nee Jankovich) Layfield, and remained in Joliet her entire life.
In her youth she held jobs at Louis Joliet Bank and National Bank; she also enjoyed modeling clothing at local fashion events. For over 30 years, she worked at IBEW Local 176, where she handled pensions and health and welfare claims. Kathy was known by coworkers as someone "who could always be counted on to get the job done."
Her volunteer work included the Joliet Area Community Hospice, and earlier as CCD Teacher and Eucharistic Minister at St. Paul the Apostle Catholic Church. She loved dogs and often visited Joliet Township Animal Control looking for older dogs to adopt and care for. Kathy enjoyed her sweets and Dan's Homemade Candies was one of her favorite haunts. Before her arthritis progressed, she made tons of cookies to give away at Christmas time. Pizzelles were her favorite.
Kathy is survived by her cousin, Andrea Isiminger of Madrid, Spain; Andrea's two sons, Jess and Aaron; and many dear friends and neighbors. A special remembrance is extended to Elvira Balog and Nichole Cassem.
Visitation for Kathy Layfield will be held on Tuesday, November 5, 2019, from 8:30 a.m. until time of Funeral Services officiated by Fr. Peter Jankowski at 10:00 a.m., at the Fred C. Dames Funeral Home, 3200 Black at Essington Rds., Joliet. Interment and Committal Prayers will follow at Resurrection Cemetery in Romeoville, where her beloved parents are also laid to rest (mother Marge in 2002 and father Walter in 1964). In lieu of flowers, memorials in her name to the Joliet Area Community Hospice or the Will County Humane Society would be appreciated. For more information, please call 815-741-5500 or visit her Memorial Tribute at www.fredcdames.com