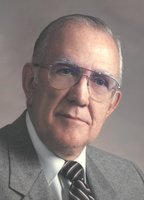 John J. McLaughlin, M.D.
The Mass of Christian Burial for Dr. John J. McLaughlin, previously scheduled for April 4, 2020 has been postponed and will be announced here when services have been rescheduled.
Dr. John J. McLaughlin, age 98, retired physician of obstetrics and gynecology, and former long time resident of Joliet, passed away peacefully, Sunday, January 12, 2020 at his late Chicago residence, with his family by his side.
Born May 9, 1921 in Chicago, to John J. and Mary Annabelle (Sullivan) McLaughlin, Sr., he completed his medical education in 1951, at Loyola University Stritch School of Medicine and served his internship and residency at the University's hospitals. He served on the first board of Junior Fellows in 1954, and from 1955 to 1957, he practiced medicine with the United States Army, serving at Ft. Bragg, and attaining the rank of Captain.
Dr. McLaughlin established his medical practice in Joliet in 1957, and served as Chief of Ob/Gyn with the Joliet Medical Group, Ltd. Throughout his medical career, he was an active member of the American College of Obstetrics and Gynecology (ACOG), serving in various capacities at the Section, District and National levels, serving as District Treasurer, an officer of his state association, and a member of the national Committee on Ethics. He also served as a member of the Board of Directors of the Illinois Ob/Gyn Society and was active in merging this Society into the ACOG Illinois Section in 1981.
A compassionate professional and leader in his community, Dr. McLaughlin was a founding member of the Jacob's Institute of Women's Health, President of the Will County Unit of the American Cancer Society and Past President of the American Cancer Society Illinois Division. He served on numerous committees and boards of St. Joseph Medical Center including several terms as Chair of the Ob/Gyn Department, and was Past President of the Will-Grundy Medical Society. He was also a member of the Perinatal Advisory Committee for the Illinois Department of Public Health.
In 1992, he was awarded the Outstanding District Service Award by the ACOG for his service and leadership in his professional field, and for having done the most for his specialty in his district.
Dr. McLaughlin retired from his practice July 1, 1993 but maintained his Illinois license as a physician and surgeon until his death.
In his free time and during retirement, John loved golfing, playing gin rummy, enjoying fine food, and spending time with family and friends. He was also an avid reader and was especially interested in everything having to do with World War II.
Surviving are his beloved wife, Arlene M. (Jordan) McLaughlin; his children, John J. (Laurie) McLaughlin of Jeffersonville, IN, Kevin P. (Kimberly) McLaughlin of Carrollton, GA, Kathleen (Hugh) Blakeway Webb of Bedford, NY, and Mary Ellen McLaughlin of Chicago; a step-son, Jody M. (Sterling) O'Donnell of Dallas, TX; 11 grandchildren, Patrick (Olivia) McLaughlin, Kathleen McLaughlin, Danielle (Justin) Rhoton, Cody Poole, Joshua and Nathan McLaughlin, Henry, Samuel and Benjamin Blakeway Webb, and Reese and Drake O'Donnell; two great-grandchildren, Woodford McLaughlin and Carter Rhoton; and numerous nieces and nephews and great-nieces and great-nephews.
The family would like to acknowledge his caregiver, Angelic Hudson, for her exceptional care, and without whom they could not have managed to keep John at home.
He was preceded in death by his parents; one brother, Robert (Dorothy) McLaughlin; two sisters, Genevieve (Edward) O'Donnell and Lorraine (Richard) Jiran; and a step-son, Tommy O'Donnell.
When rescheduled, the Mass of Christian Burial for Dr. John J. McLaughlin will be celebrated at St. Mary Immaculate Catholic Church, 15629 S. Route 59, Plainfield, IL. Cremation rites have been accorded and entombment of his urn in Resurrection Mausoleum, Romeoville, will be private.
In lieu of flowers, the family would appreciate memorials in his name to Misericordia Heart of Mercy, 6300 North Ridge Avenue, Chicago, IL 60660, an organization which impacted Dr. McLaughlin during his medical training. Online donations may be made at www.misericordia.com/giving/donate-online/
Fred C. Dames Funeral Home is in charge of the arrangements. For more information, please call (815) 741-5500 or visit his Memorial Tribute at www.fredcames.com