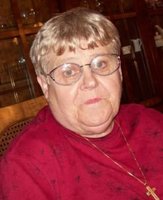 Marilyn J. Drackley

Marilyn J. Drackley
(nee Lateano)
Marilyn J. Drackley, a longtime resident of New Lenox, passed away peacefully at the age of 80 on Saturday, February 1, 2020, at The Parc Nursing Home. She was born on August 16, 1939, in Chicago, IL, to the union of James and Evelyn (nee McDonald) Lateano.
Marilyn enjoyed spending her time in the stores shopping and relished in her career as an Avon Sales Representative for several years. Her most cherished title was that of "Grandma". She was a collector of anything musical and enjoyed relaxing on the beach listening to the sound of the ocean. Marilyn enjoyed spending time with her daughter going to the movies and getting ice cream at The Creamery.
Survived by her beloved husband of 59 years, Delbert Drackley of Florida; children, James (Denise) Drackley of Apopka, FL, Deborah Drackley of Burbank, IL, and Michael Drackley of Apopka, FL; grandchildren, Irene (Daniel) Cucchiarella of Deland, FL, John Drackley of Mt. Dora, FL, and Alden Drackley of Apopka, FL; and great-grandson, Dominic Cucchiarella.
She is preceded in death by her parents.
Funeral Services for Marilyn J. Drackley will be held at 11:00 a.m. on Thursday, February 6, 2020, at the Fred C. Dames Funeral Home, 3200 Black Rd. (at Essington Rd.), Joliet, IL. Interment will follow at Woodlawn Memorial Park. Visitation will be held on Wednesday at the funeral home from 4:00 p.m. to 8:00 p.m. Memorial donations in her name to Alzheimer's Association or any organization that supports the welfare of animals would be appreciated.
For more information, please call 815-741-5500 or visit her Memorial Tribute at www.fredcdames.com