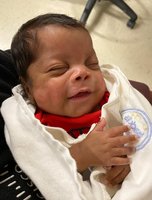 Khai Jovan Clemons
Khai Jovan Clemons
Khai Jovan Clemons passed away too soon on Monday, February 3, 2020, at Ann and Robert H. Lurie Children's Hospital of Chicago. Khai was born at a mere 27 weeks on November 22, 2019, in Maywood, IL to the union of Keith and Emilia (nee Spatafore) Clemons. He was tiny in size but full of fight from his very first day. Khai immediately warmed the hearts of anyone that met him with his big personality and the many faces that he loved to make. He brought his family together and showed them the importance of supporting those that you love.
Khai is survived by his parents, Keith and Emilia Clemons; brother, Lorenzo Clemons; maternal grandparents, Rick and Tammy Spatafore; paternal grandfather, Eric Clemons; aunts and uncles, Ariel, Elisia, Vincent, Brandon, Eric, and Kachina; maternal great grandmother, Migdalia Gonzalez-Soto; and paternal great grandparents Cyprian and Susan Jenifer. Several cousins, great aunts, and great uncles also survive.
He is preceded by his paternal grandmother, Kimberly Clemons; Uncle Tito Leggett; and maternal great grandfather, James Spatafore.
A Memorial Visitation for Khai Jovan Clemons will be held on Sunday, February 16, 2020, from 1:00 p.m. until the time of service at 5:00 p.m., at the Fred C. Dames Funeral Home, 3200 Black Rd., (at Essington Rd.) Joliet, IL. In lieu of flowers, memorials in his name to his Go Fund Me page would be appreciated. For more information, please call 815-741-5500 or visit his Memorial Tribute at www.fredcdames.com