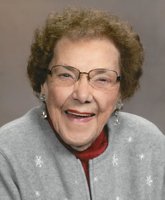 Anne Veronica McEvilly
Anne Veronica (Clennon) McEvilly
"Our Wild Irish Rose" fell asleep with the Lord on Thursday, February 6, 2020, at her home, surrounded by the love of family. Born on August 13, 1928 to Cornelius and Veronica (Brannick) Clennon, she was the beloved baby in a tight-knit, spirited Irish Catholic family of seven, and a lifelong resident of Minooka. Anne learned the value of hard work on the family farm in Minooka where she attended junior high. She graduated high school in 1945 from Saint Angela Academy in Morris.
Anne married James L. McEvilly on September 3, 1949 and celebrated 57 years of marriage before his passing in 2006. Her marriage to James was blessed by eight children, Colleen deceased (Raymond deceased) Kapsch, Patrick (Linda) McEvilly, Kathleen (James) Cox, Peggy McEvilly-Reed, Kevin (Margaret "Meg") McEvilly, Marilou (Michael) Carr, Brian (Denise) McEvilly and Kelly (Nicholas) Galatte, adored by her 18 grandchildren James Kapsch, Thomas (Karen) Kapsch, Neil McEvilly, Darren McEvilly, James Cox, Shannon (Daniel) Prokop, Robert (fiancé Melody Rivera) Reed, Natalie (fiancé Casey Leake) Reed, Shane McEvilly, Molly McEvilly Jonathan (Brittany) Carr, Mallory Carr, Samantha (Garrett) Matichak, Brianna (fiancé Abel Rodriguez) McEvilly, Colin Otis, Bryce Galatte and Gavin Galatte. and loved by her eight great-grandchildren Addyson, Maverick, Mark, Madison, Niko, R.J., Beckett and Emma. Also survived by brother-in-law Robert (the late Beverly) McEvilly, Sr. and his family, Uncle Donald (late Jeanette) Breen, and deeply loved by her godchild Judy Goodwin (Tim) Robowski. We want to thank Geraldine Houck, Susie Clodi, Barb Beaird and Judy Fowler for their love and care given to her.
She was a lifelong member of St. Mary's Church and awarded the CCW Woman of the Year in 1982. In her final years, she faced each medical hardship with grace, determination, and her sassy sense of humor. Anne, "Mama Bear," will be remembered for her generosity and kindness toward others, her vivacious personality, her farm girl work ethic and unwavering strength, phenomenal recall of life events, her loving family and caring community.
Anne lived her life to the fullest and appreciated everything Irish; music, food, dancing and most importantly, family and the traditions they kept true. She was a loyal Cubs fan and a diehard Fighting Irish fan.
Preceded in death by her parents, husband, daughter Colleen (2012), grandson Ryan Reed (1983) and grandson Andrew Carr (2012) and sister-in-law Charlene McEvilly-Obst and her siblings Howard (Frances Bols) Clennon, James (Mary Jane McDonald) Clennon, Bernard (Frances Testin) Clennon and MaryJane (Laverne) Goodwin.
No obit truly tells the life story of anyone, but to hear more, join us at the visitation, beginning on Monday, February 10, 2020, from 2:00 until 8:30 p.m., at Fred C. Dames Funeral Home, 3200 Black Rd. (at Essington Rds.), Joliet. Funeral Services will be held on Tuesday, February 11, 2020 at 9:30 a.m. from the funeral home chapel to St. Mary's Catholic Church, 303 W. St. Mary's St., Minooka where a Mass of Christian Burial will be celebrated at 10:30 a.m. Father Peter Jarosz and Anne's cousin, Father Daniel Hoehn, will officiate. Interment will follow at St. Mary's Cemetery. Preferred memorials may be made in Anne's name to St. Mary's Church Parish Hall Building Fund. For more information, please call 815-741-5500 or visit her Memorial Tribute at www.fredcdames.com