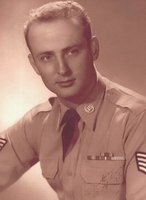 Mark L. Dames
When our father was given the news of his terminal cancer diagnosis it was our family's goal to give him every great day we could, one day at a time. He remained at his beach condo in Siesta Key, Florida enjoying each day until the cancer took too much from him on Saturday, February 8, 2020. It is an impossible task to put into just a few short sentences the essence and impact of a good hearted human soul on the people who love him, here it goes. Mark L. Dames was born on July 19, 1932, to Fred C. and Louise (nee Wilhemi) Dames. Raised in Joliet, he was a funeral director's son whose father put everything on the line to construct the first ground level, ice block air conditioned funeral home before air conditioning existed in 1938. He attended St. John Catholic Grade School grades 1-5 and graduated from St. Raymond Catholic Grade School grades 6-8, Joliet Township High School Class of 1950, Joliet Junior College and Worsham College of Mortuary Science. Mark enlisted in the United States Air Force during the Korean War serving in Japan and Korea from 1952 to 1956. He didn't talk about his service much, but we found his old foot locker in the attic of his childhood home before it burnt to the ground; contained in that locker was a letter from the Pentagon thanking him for his work on a new crypto code for the Air Force. Following his service to his country, he went to work with his father and his brother at the Fred C. Dames Funeral Home until his father's untimely death in 1962. Mark and his brother, Joel, were left with significant visionary debt and became the owners of the business overnight. They both continued our grandfather's vision with countless hours of commitment and vision. That commitment and vision of healing the human condition continues today. He was a member of the Benevolent and Protective Order of the Elks #296, Cantigny Post VFW #367, Harwood Post American Legion #5, Knights of Columbus Council #4400 as a 4th Degree Knight. Past member of Knights of Columbus Council #382, the Joliet Noon Lions, the Exchange Club and a 50 year award recipient of the Illinois Funeral Directors Association and lifetime member. Mark was especially proud to have been selected to be on a Veterans Honor Flight to Washington D.C. on August 10, 2016; the experience was unforgettable.
Our father was eternally grateful that the good Lord gave him time for a commitment free life following retirement, because not everyone is graced with the opportunity to grow old. Being a dedicated Funeral Director leaves little time for anything other than helping those families when they call all hours of the day and night, 24 hours a day, 7 days a week. Upon retirement, a whole new world of adventure had opened up. His favorite thing in the world was spending quality time with his wife, children, grandchildren, family and friends; this would be living his best life. Traveling across this great country and overseas, with our mom by his side, was definitely in his the top ten of great moments. Walking and collecting shells on the Siesta Key Beach where he has spent most of his winters. Growing up we were astounded at our fathers ability to recall everyone's name, their spouse, their children, their parents names, where they worked and a myriad of other details. It didn't matter where we went in the country dad knew who he was talking to. Eating, drinking, dancing, laughing and telling jokes to anyone who would listen, and even to people that did not want to listen, was the retired Funeral Director way. We will miss his aura, the thing that made him unique, but we know we will see him again. We shall live our lives to the fullest because that is what he wants. Until we meet again, thanks for everything.
Mark was preceded by his parents; two sisters, Joan Dames at the age of 9 and Marilynn (Ray) Offerman; one brother, Joel L. (Arlene nee Holub) Dames; and two brothers-in-law, Jerry Orzech and Richard Brady.
Survived by his loving and devoted wife of 59 years, Sharon A. (nee Healy) Dames of Shorewood; three sons, Jeffrey M. (Tina) Dames, Brian L. (Shelley) Dames of Joliet and Fred J. (Theresa) Dames of Channahon; one daughter, Melissa "Missy" Dames of Plainfield; eight grandchildren, Lexie and Jeffrey Dames Jr. of Indianapolis, IN, Sarah (Nick) Holloway of Plainfield, Shannon (Grant) Simotes of Minooka and Shaun Dames of Chicago, Mark and Julia Dames of Channahon, and Taryn Skoumal of Texas; two step grandchildren, Heather (Jose) Flores of Longwood, FL and Joshua Stroh of Beverly Hills, CA; one step great-granddaughter, Hailey Wong of Joliet; and two sisters, Paula Brady of Niles and Gervaise Orzech of Atlanta, GA. Numerous nieces, nephews, cousins, special friends, and countless surviving client families who were able to breathe a little easier because of his dedication to his profession and community also survive.
Funeral Services for Mark L. Dames will be held on Saturday, February 15, 2020, at 9:30 a.m. from the Fred C. Dames Funeral Home, 3200 Black Rd. (at Essington Rd.), Joliet, to St. Paul the Apostle Catholic Church, 18 Woodlawn Ave., Joliet, for a Mass of Christian Burial to be celebrated at 10:30 a.m., with Fr. William DeSalvo officiating. Enshrinement will follow at Woodlawn Memorial Park Mausoleum where full military honors will be conducted under the auspices of the United States Air Force. Visitation will be Friday, February 14, 2020, from 4:00 until 8:00 p.m., at the funeral home chapel. In lieu of flowers, Mark Dames' last request would be this: Be kind and respectful to those who you do not agree with, perform random acts of kindness without having to tell anyone about them, and finally, stand for your principles. This is how you can memorialize him. For more information, please call 815-741-5500 or visit his Memorial Tribute at www.fredcdames.com